A Curious night at the Olivier Awards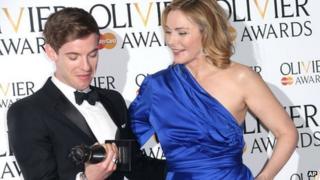 Dame Helen Mirren may have been crowned best actress for her role as The Queen, but it was a "risky" project from the National Theatre that stole the show at this year's Olivier Awards.
Winning seven out of the eight awards it was nominated for, The Curious Incident of the Dog in the Night-Time matched Matilda the Musical's record haul last year.
The adaptation of Mark Haddon's best-selling novel by Simon Stephens started life at the Cottesloe Theatre last summer before transferring to the West End.
The play is booking until January 2014, but it could be around a lot longer if the track record of its director Marianne Elliott - who staged the National Theatre's breakout hit War Horse - is anything to go by.
"It was an experimental journey, and like War Horse, we could not have done it anywhere else other than a properly subsidised theatre, because it was a risk," Elliott told the BBC backstage at the Royal Opera House, clutching her award for best director.
"Everyone, including the creative team, were working outside their comfort zones.
"You have to be allowed to take risks and that means being allowed to fail and that means being allowed to try new things."
It was no surprise to hear words like this at the end of a week when Culture Secretary Maria Miller called on the arts world to make the case for public funding by focusing on its economic, not artistic, value.
Several winners at the Oliviers took the opportunity to raise the issue both on and off stage.
"British theatre is one of the great things that this country exports," said Curious Incident's playwright Simon Stephens. "It's at it's best when it's collaborative, made out love and with a spirit of fun."
The play's success, he said, was "a testimony to the spirit of state subsidised art in this country, which is quite exceptional".
He warned: "You watch happens to the writing theatre scene in 20 years time and you'll see the consequences of a removal state funding from British theatre."
Michael Frayn, who received a special Oliver Award, said he had noticed increased co-operation between the subsidised and commercial sectors.
"Producers on the whole expect writers to cut their teeth in the subsidised theatre," said the playwright, whose works include Noises Off and Benefactors.
"When I began, I was nursed along by Michael Codron - one of the greatest West End producers - who took a chance on that first show. It was private producers who brought playwrights on - that happens much less now."
On the commercial side, Top Hat, based on the 1935 RKO film with Fred Astaire and Ginger Rogers, converted three of its seven nominations into awards, winning best new musical as well as best choreography for Bill Deamer, and best costume design for Jon Morrell.
Another triple award winner was Sweeney Todd, which scooped the award for best musical revival.
Directed by Jonathan Kent, the latest Sweeney Todd originated from Chichester Festival Theatre, the regional powerhouse that has already transferred several of its hits to the West End, including Singin' in the Rain and Kiss Me, Kate.
Kiss Me, Kate had five nominations but went home empty-handed, as did Nick Payne's Royal Court transfer Constellations, which had four.
There was a genuine buzz backstage when Helen Mirren arrived to show off her best actress statuette.
Peter Morgan's play The Audience imagines the private meetings between the Queen and her prime ministers over her 60-year reign.
Dame Helen told reporters she thought her win was a "reflection of the kind of respect that the Queen is held in".
Her co-star Richard McCabe, who won best supporting actor for his role as Labour PM Harold Wilson, shared some royal revelations backstage.
"Apparently a lot people from the royal household have been coming in incognito," he said.
He also revealed that the script had been changed to reflect the death of Baroness Thatcher, with David Cameron's character making reference to the funeral.
McCabe said the biggest challenge to playing Harold Wilson was a scene in which he demonstrates his incredible powers of memory.
"The hardest thing I had to do was learn pi to 65 places. Lines are really easy, but abstract numbers - impossible."