Date set for Michael Jackson wrongful death trial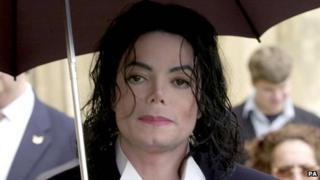 A civil trial in which Michael Jackson's family is suing concert promoters AEG is to begin on Monday, court officials have confirmed.
Jackson's family is suing AEG for wrongful death, claiming the company was responsible for the star's death in 2009 because it hired Dr Conrad Murray.
Dr Murray was convicted of involuntary manslaughter in 2011.
A jury of six men and six women has been selected for the Los Angeles trial, which may last up to six months.
Jackson died from an overdose of the powerful anaesthetic propofol while preparing for 50 comeback gigs in the UK.
The legal action claims AEG Live is liable for his death because Dr Murray supplied Jackson with the surgical drug.
'Preposterous'
The Jackson family is suing for $40bn (£26bn). But AEG Live has said it was not responsible for the hire or supervision of the doctor and called the $40bn claim "preposterous".
Potential witnesses include Jackson's mother, his two oldest children, Prince, 16, and Paris, 15, as well as the singers Prince and Diana Ross.
The jury was selected from more than 100 candidates - many of whom were eliminated because they said serving on a three-month trial would be a hardship.
Others were rejected when they said they had a bias against Jackson or disapproved of big-figure legal cases or had business ties to AEG or the Jackson family.
Alternative jurors
Lawyers for both sides have now begun questioning prospective candidates to sit as six alternative jurors - used to replace a regular juror who becomes unable to serve.
The legal action accuses the promoters of failing to check the credentials of Dr Murray, who supplied Jackson with the propofol.
During Dr Murray's trial in 2011, the prosecution said he caused the star's death through negligence.
The defence argued that Jackson was a drug addict who caused his own death by giving himself an extra dose of propofol while the cardiologist was out of the room.
Earlier this week, Murray launched an appeal against his conviction.