Futurama axed by Comedy Central two years after Emmy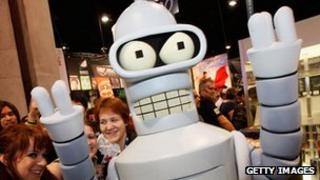 Animated comedy Futurama has been axed by Comedy Central and will air its last episode on 4 September in the US.
It marks the second time the series has been cancelled, it was dropped by Fox in 2003 after four seasons.
The second half of the seventh series will be aired from 19 June and will culminate with the season finale.
But Futurama and Simpsons creator Matt Groening has told Entertainment Weekly they "would love to continue," adding, "We have many more stories to tell."
He said: "If we don't, this is a really great way to go out… I think these episodes are the best ones we've ever done."
Former basketball star Larry Bird, comedy actress Sarah Silverman and Star Trek's George Takei have contributed voice-overs to the latter half of the series.
Comedy Central took on the science fiction sitcom - which is set on a spaceship in the 31st century - in 2007, after its repeats on American cable TV network Adult Swim found a large cult following.
The show re-launched with direct-to-DVD movies, which were run on Comedy Central as a fifth season in 2009-2010 and a subsequent sixth season was ordered for 2010-2011.
"We've been in this situation before and it's tempting when you're doing episodes that are as good or better than anything you've ever done to continue doing it," said Groening. "We're catching our breath and seeing what the fans have to say."
While executive producer David X. Cohen added: "I felt like we were already in the bonus round on these last couple of seasons, so I can't say I was devastated by the news.
"It was what I had expected two years earlier. At this point, I keep a suitcase by my office door so I can be cancelled at a moment's notice."
Futurama won its second Emmy for outstanding animated programme two years ago.