Olympus Has Fallen mounts UK box office chart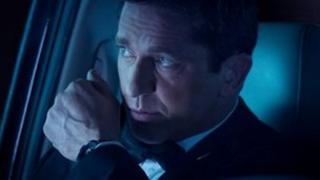 Action thriller Olympus Has Fallen, in which the White House is taken over by North Korean terrorists, has stormed the UK and Ireland box office chart.
Starring Gerard Butler and The Dark Knight actor Aaron Eckhart, the explosive drama made £2.24m in its first five days in cinemas.
That was enough to wrest the top spot from Tom Cruise's sci-fi thriller Oblivion, which fell to second place.
Horror remake Evil Dead made its debut at three with takings of £1.37m.
The title Olympus Has Fallen refers to the Secret Service's code name for the American President's residence, and it is the first of two films this year to share the theme of an attack on the White House.
White House Down, starring Channing Tatum and Jamie Foxx, will also see the historic Washington domicile under threat from a hostile incursion.
Animated caper The Croods, about a prehistoric family encountering dangers outside their cave, has fallen two places this week to four.
Ryan Gosling's crime drama The Place Beyond the Pines also lost ground, dropping one place to five.
Love Is All You Need, a romantic comedy from Denmark starring former James Bond Pierce Brosnan, was the only other new entry in this week's top 15. But despite opening on 131 screens, the film could only manage seventh place with takings of £202,000.