Clare Balding to receive Bafta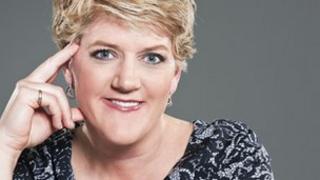 Clare Balding will receive a special award for outstanding achievement in factual presenting at this year's TV Baftas, organisers have announced.
TV committee chairman Andrew Newman said her work covering London 2012 - on the BBC for the Olympics and on Channel 4 for the Paralympics - had made her "a national treasure".
A "delighted" Balding said she "may not stop smiling until the night".
Graham Norton will present the 12 May awards at London's Royal Festival Hall.
Bafta said the award - last presented in 2006, to Jamie Oliver - was being given "in appreciation of her incredible dedication to presenting across entertainment and sporting events".
Previous recipients of the factual presenting special award include Jon Snow, Andrew Marr, Jeremy Paxman and Kate Adie.
Mr Newman said Balding's body of work "over the last 13 years speaks for itself".
He said that, last summer, her "warmth and charisma helped bring the country together as we celebrated in Team GB and Paralympic GB's success".
"She is a trusted and intelligent live presenter with an ability to transcend genre and we're delighted to honour her contribution to television," he added.
'Unusual household'
Balding is also known for presenting horse racing coverage on Channel 4 as well as series including BBC One's Britain's Brightest and Radio 4 walking programme Ramblings.
Her first book, My Animals and Other Family - based on her experiences growing up "in a rather unusual household" - was a bestseller that won biography of the year at the National Book Awards.
Meanwhile, the Bafta craft awards will take place at the London City Brewery on Sunday night.
BBC Two period drama Parade's End leads the way with five nominations.
Hamish Hamilton, the director of the TV broadcasts of the London 2012 Olympic Games opening and closing ceremonies, will be honoured with a special award on the night.