Robert Peston pens preface to late wife's final book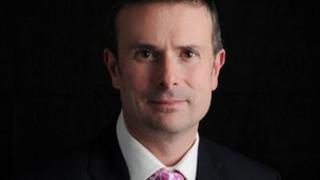 BBC business editor Robert Peston has described how transcribing his late wife's final book helped him cope following her death from lung cancer.
Sian Busby died aged 51 in September 2012, five years after her diagnosis.
In the preface to the book, which has been printed in the Radio Times, Peston said: "Foggy-brained, the transcription was spoilt by spelling mistakes and typographical errors. All mine."
A Commonplace Killing will be Radio 4's Book at Bedtime next month.
Peston said he picked up the novel's handwritten manuscript 11 days after his wife's death.
"My motive was selfish: I wanted to keep talking to her. I still do," his preface reads.
"The tears could not be staunched as I read, deciphered and typed. Sian's prose was as pellucid and accurate as ever. And brave.
"Here she was, all hope lost of reprieve from the lethal cancer, reflecting on what it is like to know that death awaits on the morrow."
A Commonplace Killing is described by its publisher as a "gripping psychological thriller... set in the bleakness and confusion of post-WWII London".
It will be published on 2 May and will be Radio 4's Book at Bedtime from 10 to 21 June.
Caroline Raphael, Radio 4's commissioning editor, said Busby had written "an engrossing story".
The novel, she went on, had "three very strong, beautifully written characters" and "evokes that curious period just post war brilliantly".
Cancer research
Writer and filmmaker Busby died a month after specialists said there was nothing more they could do for her. She had never been a smoker.
Writing in his BBC blog earlier this month, Peston bemoaned the underfunding of research into lung cancer.
"Breast cancer receives just over £3,500 of research funding per death from the disease." he wrote.
"Leukaemia receives over £7,000 of research funding per mortality. Lung cancer receives just over £400 per death.
"There has been a perception that lung cancer sufferers have only themselves to blame, because they've smoked all their lives, and they tend to be old."
Busby wrote five books, the first two non-fiction. She also lectured in film and performing arts at Royal Holloway, University of London.
She and Peston briefly dated in their early twenties and resumed their relationship 12 years later following the break up of Busby's first marriage.
By the time Busby was completing A Commonplace Killing, Peston writes in his preface, she was "being turned into an invalid, in almost unimaginable pain most of the time".
"Very occasionally she grumbled against the palpable unfairness, but she was courageous and stoical to an extent that tested my credulity."