Richard Bacon promo complaint 'not upheld' by BBC Trust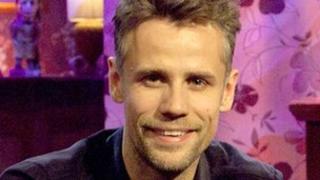 A complaint about books written by BBC employees being given undue prominence on Richard Bacon's 5 live show has not been upheld by the BBC Trust.
The complaint alleged a conflict of interest when presenter Simon Mayo and news correspondent Mark Easton were guests on consecutive shows in February last year to talk about their books.
It suggested a pattern of BBC personnel being given "promo" slots on the show.
But the trust said no guidelines were breached by either of the appearances.
In its ruling, the trust said Bacon's show was "a mix of news, sport, entertainment and interviews with guests," adding it "frequently features interviews with authors who have recently had books published".
Mayo, who presents a drive time show on Radio 2, is a former regular 5 live host and still reviews films on the network.
He was on the Bacon show to talk about his children's book, Itch, which was published on 1 March 2012.
Easton, currently the BBC's Home Editor, talked about his book, Britain etc, which was also published last March.
The complainant had said both interviewees were favoured because of their existing connections to the BBC and alleged there was a pattern of corporation staff being over-represented as guests on BBC shows.
But the trust report said there had been "no impropriety in the way the interviews had been arranged (either by the publishers, Mr Easton or Mr Mayo) and there was no evidence that either Mr Mayo or Mr Easton had lobbied to get on the show to promote their books or otherwise asked for favours".
It added the two BBC guests had "broadly been treated as other guests would have been and the books had not been given undue prominence".
However, it agreed the importance of editorial guidelines being adhered to in relation to such interviews.
Six Nations complaint
The Trust also answered a complaint from the trade body for commercial radio companies in the UK about the presence of an on-screen animated graphic for the 2012 Six Nations rugby championship's data supplier Accenture during live matches.
The RadioCentre complaint said the graphic was unduly prominent and amounted to sponsorship.
In its ruling the trust said that to give Accenture on-screen credits as data-supplier was "appropriate and editorially justified" and that Accenture's contractual relationship was with the tournament organiser and not the BBC.
It added "no question of programme sponsorship arose".
However, the report took issue with an email sent by the an executive producer to staff, which might have given recipients the impression that BBC Sport had made a binding commitment over how often and for how long Accenture's logo was should be featured.
The trust said this meant that audiences "could not have a well-founded confidence" that the corporation's decisions on the sponsorship "were not influenced by commercial pressures".
As such the complaint was partially upheld.
The editorial standards committee recommended that in future, it should be made clear the BBC had not entered into any binding commitments on "supplier credits" and any specifications on the use of logos are "merely an indication of what BBC Sport considered likely to be appropriate".