Cannes: 24-hour Palais people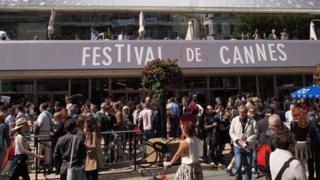 One of the perks about being at the Cannes Film Festival in any kind of professional capacity is the ability to watch many of the films that are being shown in and out of competition.
But for the many holidaymakers who flock to this part of French Riviera and for the locals themselves, it can mean hours spent standing outside the Palais, the main screening centre, in the rain or shine with placards pleading for a spare ticket.
But how long are they prepared to wait and have they ever been successful? We meet a few of them.
REMY
Last year I came for the first time, when we moved to Nice and we wanted to enjoy the festival.
Last year we got tickets but not this year, it's more difficult this year because more and more people are coming from the industry so there are fewer spare invitations.
This is a market for the movies so that won't change but maybe they should do more screenings of each film so more members of the public can see them because, after that, we tell our friends about the movies we've seen.
I picked this film because the summary sounded interesting but we don't really know anything about it. But people who have seen it already have said it's magnifique.
HUGO
I'm from Montpellier an it's my first year and today we've been here for about four hours but I have a friend who has a ticket already.
It's very important to be here for the festival. I had time to change before I came.
If I get a ticket from someone, I'll be very happy, I will kiss them.
ALICIA
We just got here, we've been doing this for two years and last year, I went to see seven movies. It works.
It depends on the movie though, sometimes it is two or three hours waiting.
We are young and pretty, which helps, and we have the smiles as well, people say, 'Oh you're nice,' but I'm not going to come every day.
I worked here once and I saw people do this and I thought:'Yes, why not me? I don't know anything about this film, but it's nice to be in the main theatre and go up the stairs on the red carpet.
It's not a nice day today but it's fun, I'm doing it once but maybe not twice.
VIOLAINE
It's my second year here and I always get in, so it's nice.
I come for the atmosphere and the movies.
People have been happy to give spare tickets.
I wasn't here on Saturday because there was too much rain so I stayed home.
Those people are very brave, I wouldn't do it.
I saw Borgman, and I saw movies from other strands, about 10 movies so far.
ANNE
I'm not in the film business but I love to watch movies and I think it's a very cultural event and we should experience other cultures.
In Cannes you see a whole range of films from across the world.
I think it's a very prestigious event and people who have soul should come here.
Plus it's a nice place. People should go and see films and then go to the beach for sunbathing.
This should be for everybody to enjoy, especially if people can see films for free if they don't have so much money.
There are more people here this year because the information gets out, people tell their friends that it's a good idea.
It helps to dress up a little bit. I gave some advice to some people from Canada, from Quebec, who are here for the first time, that the most important thing is how you make contact with people.
It's psychological, it helps to be open-minded and talk to people. It's the best way to get invitations. There are lots of beautiful girls here but not everyone can get in, you have to sell yourself.