Fast & Furious races to top of US box office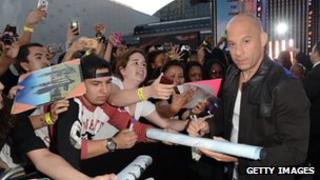 Fast & Furious 6 has debuted at number one at the North American box office, taking more than double The Hangover Part III's opening takings.
The action sequel made $122.2m (£80.7m) over the four-day Memorial weekend. The Hangover Part III took $52m (£34.3m).
With the continued strength of Star Trek: Into Darkness, The Great Gatsby and Iron Man, early estimates suggest it could be a record-breaking weekend.
Box-office tracker Hollywood.com estimates takings will hit $323m.
This would make it the biggest Memorial weekend box office on record.
Paul Dergarabedian, an analyst for Hollywood.com, estimated that four-day revenues this year would be about 15% above Memorial Day weekend in 2011, when The Hangover Part II fetched $103.4m on its debut.
Fox's animated film Epic was another new entry at number four with $34.2m (£22.5m)
Fast & Furious 6 knocked Star Trek: Into Darkness off the top spot.
JJ Abrams's second Star Trek movie was widely expected to make $100m (£66m) on its debut last weekend but the film took $84m (£55.5m).
The sixth Fast & Furious movie stars Vin Diesel as a gang leader who is ordered by a US agent - played by Dwayne Johnson - to stop a team of mercenary drivers causing havoc across 12 countries.