Liam Gallagher: 'One Direction are my biggest competition'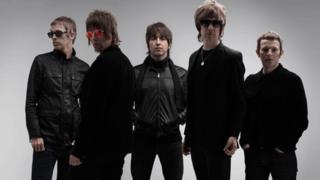 A little rivalry never hurt anybody.
Mick Jagger referred to The Beatles as a "four-headed monster"; Bowie was spurred on by the success of his friend Marc Bolan; Oasis entered a musical arms race with Blur.
But since Oasis imploded in a backstage brawl four years ago, Liam Gallagher has found a new foe.
"Who's my biggest competition?" he asks. "One Direction."
"I'm not into their music," he clarifies, but the teen band are that most Gallagher of things - "mad for it".
"Fair play to them, man, they got lucky - like we all do, I guess - and they're just going for it.
"That's what it's all about, innit? It's all going to end at some point. And when it ends, you want to make sure you've ticked all the boxes."
At 40, William John Paul Gallagher is as quotable as ever. But the flippancy masks a larger truth: His real musical nemesis is his brother, Noel.
When Oasis split, Liam came out fighting. Taking the remnants of the band with him, he formed Beady Eye: Bare-bones, ready to rock, full of fury.
But their no-frills debut, Different Gear, Still Speeding, was easily eclipsed by Noel's superior solo album. While the senior Gallagher set off on arena tours, Beady Eye were dumped by their managers and limped across the finishing line with relatively low UK album sales of 500,000.
It may have been a blessing in disguise, though. Because, for the first time since the 1990s, Liam Gallagher had something to prove.
Gauntlet laid down, Beady Eye hired an "absolute outlaw" to produce their new album, BE. His name is Dave Sitek and he's best known for his left-field work with TV On The Radio and the Yeah Yeah Yeahs.
Most importantly, the New Yorker didn't really know, or particularly care, about Oasis.
"That was the most refreshing thing about the whole experience," says guitarist Andy Bell. "He came in without the baggage of thinking, 'well, I'm assuming you're going to want to have it sounding like this'.
"Dave said, 'I work pretty fast'," adds second guitarist Gem Archer, "and we said, 'so do we'. So the race was on."
Reinvigorated, the band laid down 21 tracks in just nine days. Most of them had been demoed in advance but, says Bell, "a lot of that went out the window as soon as Dave started his production".
Gallagher describes Sitek's contribution as "the weird jiggy stuff". BE frequently dips its toes into the cosmos, wandering off into ambient psychedelia at a point when most Oasis tracks would have hit the "fade out" button.
"We just sat back and let it unfold," says Gallagher.
"It's like thinking time," adds Bell, "because nothing really happens. And that's something we don't normally put in records, is a bit of space to think."
"We did take a gamble. But life's a gamble, isn't it? Every album's a gamble. Unless you play it so safe that you're not gambling, and I wouldn't want to hear that album in the first place."
Sibling song
With characteristic humility, Gallagher told the NME earlier this year that BE was the album "Oasis should have made after (What's The Story) Morning Glory". Does he stand by that?
"Yeah. I don't mean this particular album. I think we should have been a little bit more open to this kind of thing in Oasis - i.e. with the producers, do you know what I mean?
"In Oasis, Noel was full-on, hands on producing, and he's not a producer. I think some of the time, with this word 'experimenting', you have to let the experimenting happen.
"We tried to stay out of the way. And that's the biggest... it's the hardest thing, to be not running the show all the time."
Noel's shadow hangs over both the album and the interview. Liam even defines Beady Eye by his absence: "Oasis was pretty much Noel's direction and vision, and this is ours".
But, although the brothers have barely spoken since the end of Oasis, Liam appears to offer an olive branch on the album track Don't Brother Me.
"In the morning, I'll be calling and hoping you understand," he sings. "Give peace a chance. Take my hand - be a man."
Yet, when pushed to talk about the song, he's suddenly cagey.
"Liam, you must getting asked about Don't Brother Me in every interview."
Liam: "No, you're the first."
"When I saw the title, I assumed it would be an angry song - but it's not. What was your state of mind when you wrote it?"
Liam: "Can't remember. Fuzzy. As usual. I didn't sit down to write a song about a brother. There's bits in there about Noel, I guess. And there's bits in there about me, and there's bits in there about my other brother. And there's bits in there about brothers in general. About everyone just chilling, man. And give peace a chance. There's a couple of little cheeky things in there."
"Such as?"
Liam: "I don't know. I wouldn't want to spoil the party."
"Could it be this line: 'I'm sick of all your lying. Your scheming and your crying?'"
Liam: "But that could be about me, though, couldn't it?"
"Well, no. When you sing about 'your' scheming it's directed at someone else."
Liam: "It could be me, though, couldn't it?"
"So you're singing to yourself?"
Liam: "Could be. I talk to myself, so why not?"
"Did you write the song looking in the mirror, then?"
Liam: "Yeah, alright. It's about him. And it could be about people around him. I'm not here to shy away from talking about our kid. You ask me a question and I go for it. But, yeah, it's about a lot of things. It's not about just Noel. Believe you me, if I could write a song about the [expletive] with Noel, I would."
"So why not do that?"
Liam: "Because it's not in me, man."
"OK… Let's take a step back - because ultimately the song is conciliatory."
Liam: "It's a nice song with some nice moments in it, man."
"Nice moments" abound on BE. Don't Brother Me is one of two songs written in waltz time, while Soul Love is a tender ballad that dissolves into a hazy coda played while the band watched the "Star Gate" sequence from 2001: A Space Odyssey.
'Second bite of the apple'
But there are also the expected rock numbers, including first single Flick Of The Finger, which draws on the pounding rhythms of the Velvet Underground's Waiting For The Man and The Stone Roses I Wanna Be Adored.
It's at its best when Sitek pushes the band into unexpected territory. When he loosens his grip, the music occasionally slips back into Oasis-by-numbers bore rock.
Throughout, though, the biggest revelation is Gallagher's voice, which is pushed to the front, with none of the echo or reverb or studio trickery other singers rely on.
"There's a lot of records where you're screaming and shouting, and you think you're singing the biggest vocal ever," he says.
"You come back in the next morning and you think it's going to sound like a jumbo jet and it's that big." [indicates something very small].
"So this time round I thought, do you know what? When I sit in my house playing my guitar, I like the way my voice sounds. I took all the reverb off, tried to be as naked as possible. Sometimes it's hard, because you get self-conscious about it but we had to just get past that."
"Half of these songs on the new album, I was basically whispering it. Come back in and the vocal was massive. It's all about soul, man.
"I can sing punk rock, I can sing rock'n'roll and I can sing soul music and all."
Never short on confidence, Gallagher genuinely believes Beady Eye have made a breakthrough on their new album.
As the next single puts it, he's ready for "a second bite of the apple".
"We'll be gutted if it doesn't get to number one," he says. "But it won't stop us from doing this. That cloud won't be there forever.
"You don't start a band to be number one. You start a band to write good music, and that's what we do."
BE is out on 10 June.