David Dimbleby hits out at sexism and ageism in TV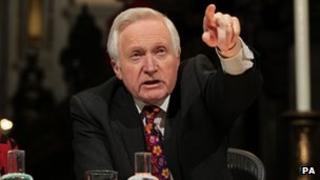 Veteran broadcaster David Dimbleby has criticised broadcasters for rarely employing older women in front of the camera.
In a Radio Times interview, the 74-year-old host of BBC One's Question Time said: "Why should age matter with women? Women mature elegantly and better than men, very often.
"I don't think age should be a factor for women appearing on TV.
"I agree that it is demeaning to women and... it's a crazy loss of talent."
In 2011, former BBC newsreader Anna Ford described Dimbleby as a "charming dinosaur".
Ford, who left the BBC in 2006, said: "I wonder how these charming dinosaurs such as Mr Dimbleby and [BBC world affairs editor] John Simpson continue to procure contracts with the BBC, when, however hard I look, I fail to see any woman of the same age, the same intelligence and the same rather baggy looks."
Dimbleby - who has been the BBC's main presenter of election coverage since 1979 - said the problem was due to the pressures to get big audiences.
"There is a section among television executives who are always being hammered - quite wrongly in my view - to get the biggest possible audience, and they are told attractive young women will bring in a bigger audience than less attractive, older women - to say nothing of less attractive older men, like me.
"That's the way the TV - not just the BBC - industry works. And I think it's wrong," he added.
Former Countryfile presenter Miriam O'Reilly won an age discrimination case against the BBC in 2011 after she was dropped from the rural affairs show when it moved to a primetime Sunday evening slot in 2009.
Other TV figures including Dame Joan Bakewell and Selina Scott have also spoken out against broadcasters on the same issue.