Sergei Polunin set for London Coliseum comeback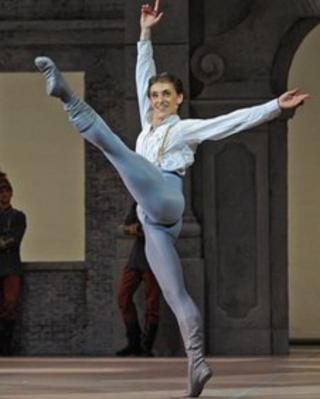 Dance star Sergei Polunin is to return to the London Coliseum, four months after abruptly leaving a ballet there just days before its UK premiere.
The 23-year-old will appear with the Moscow Stanislavsky Ballet in Coppelia, a comic ballet about a man who falls in love with a beautiful life-like doll.
Polunin had been due to appear at the Coliseum in April in a ballet version of prison drama Midnight Express.
The Ukrainian said he was "delighted" to be returning to the venue in July.
Concerns were raised about Polunin's health and state of mind when he failed to turn up for Midnight Express rehearsals in April.
The English National Ballet's artistic director subsequently confirmed he had returned to Moscow and was "Ok".
"I am very sorry that, due to health issues at the time, I wasn't able to explain to everyone why I couldn't perform in April," Polunin told reporters in London on Tuesday.
The dancer promised he would "be there" to perform Coppelia, a "favourite" of his that he first performed in Moscow following his 2012 departure from the Royal Ballet.
Coppelia, featuring music by Leo Delibes and choreography by Roland Petit, will have six performances at the Coliseum between 11 and 14 July.