Broadway takings and attendance falls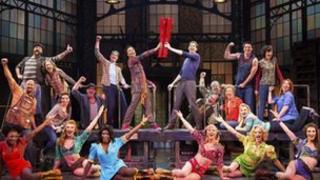 Earnings for Broadway shows have fallen over the past year despite higher ticket prices, according to figures from The Broadway League.
Attendance was also down from 12.3 million in the 2011-2012 season to 11.6 million.
The League blamed the poor performance on Hurricane Sandy, which closed Broadway for four days in November.
It said gross earnings and attendance just before the storm hit were higher than the same time the previous year.
"The lost performances and the understandable slower return to Broadway by our tri-state area theatre-goers contributed to the decline in both grosses and attendance," Charlotte St Martin, executive director of the League said in a statement.
Theatre flops
"Plus with early closings of some of our open-ended runs creating a loss in playing weeks, comparable to the decrease in attendance, there just wasn't time to recover," she added.
Overall Broadway takings and attendances have been on the increase for the past four years, as has the number of weeks shows are playing for.
The League's figures showed that productions took $1.14bn (£757m) in the 12 months to May 2013 - $577,000 (£383,000) less than the previous season.
The early closing of a number of productions brought the total number of playing weeks down by 6% to 1430 and left several theatres empty for part of the season.
Forty-six new productions opened during the 2012-13 Broadway season, including 15 musicals and a record high of 26 plays.
Despite a bumpy start, the season ended on a positive note as new productions of Cinderella, Kinky Boots, Lucky Guy, and Matilda joined long-standing shows such as Spider-Man: Turn Off the Dark, The Book of Mormon, Wicked and The Phantom of the Opera to give takings of $1m (£664,000) for the past week ending on Sunday.
Meanwhile, in the US film box office, figures show it was a record-breaking May with hit movies such as Fast & Furious 6 and Iron Man 3 helping to get the summer box office off to its best start ever.
According to the movie tracking website, BoxOffice.com, gross earnings of $1.04bn (£690m) for the month topped the previous record of $1.03bn (£684m), set in May 2011.
BoxOffice.com predicted a total monthly tally of more than $1.1bn (£730m) when the final takings are counted on Friday.