What ho! Jeeves and Wooster head for West End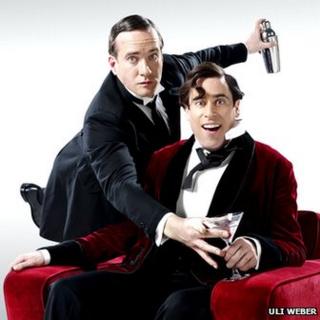 Almost a hundred years on from their first appearance in print, PG Wodehouse's comic creations Jeeves and Wooster are being resurrected on stage.
Matthew Macfadyen will play valet Jeeves with Stephen Mangan as the dim but amiable Bertie Wooster in Perfect Nonsense, by Robert and David Goodale.
"I'm ridiculously excited and slightly scared," Mangan told the BBC.
Perfect Nonsense will open in Richmond and Brighton in October ahead of a West End run at the Duke of York's Theatre.
The new play, which has the blessing of the Wodehouse Estate, is based on 1938 novel The Code of the Woosters.
Mangan confessed he had never read any PG Wodehouse before he was approached about the role of the "mentally negligible" Wooster.
"It was one of those things I'd always meant to do," he said. "As everyone says, he's the finest comedy writer the English language has ever produced.
"So I started tucking in, and it's like crack cocaine. Wodehouse wrote about 90 novels and I've read about a third of them."
"This play from Bobby and David Goodale is an absolute hoot - a wonderfully crafted and joyful bit of perfect nonsense," said former Spooks star Macfadyen. "I am delighted to be a part of it."
Perfect Nonsense will be directed by Sean Foley, whose production of The Ladykillers is about to return to the West End.
Foley's current project - A Mad World, My Masters for the Royal Shakespeare Company - opens in Stratford next week.
After Perfect Nonsense, he will direct Harry Hill's X Factor musical I Can't Sing! in the West End in 2014.
"The brilliant thing about the Goodale brothers' adaptation is that there's not really a single line that doesn't come from the book or Wodehouse himself," Foley told the BBC.
The director praised the "brilliant chemistry" of its two lead actors and hinted that the production would exploit its live theatre setting.
"It's not an old and dusty rendition," he said.
Wodehouse, who died in 1975 at the age of 93, is recognised as one of the great humorists of the 20th Century.
He wrote more than 90 novels and more than 300 short stories over the course of a career that spanned more than 70 years.
Jeeves and Wooster made their first appearance in the 1915 short story Extricating Young Gussie. They have since appeared in films, on TV and radio and on stage.
Dennis Price and Ian Carmichael played them in 1960s TV show The World of Wooster, while Stephen Fry and Hugh Laurie brought them to life on ITV in the 1990s.
Mangan said he wasn't daunted by Fry and Laurie's much-loved portrayals. "They were perfect casting and the TV show was brilliant, but TV and theatre are different things.
"You get a different Hamlet every seven months on the London stage, so I think we can cope with two Jeeves and Woosters in 20 years."
Perfect Nonsense plays at Richmond Theatre from 10 to 19 October and Theatre Royal Brighton from 22 to 26 October. It will then run at the Duke of York's in London from 30 October.