Playwright Alistair McDowall: Anything can happen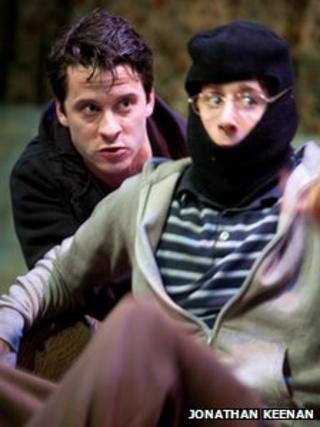 Who is the most exciting English playwright to emerge in the last five years?
According to Simon Stephens, who wrote the scripts for The Curious Incident of the Dog in the Night-Time and Punk Rock, that would be Alistair McDowall.
McDowall's latest play Brilliant Adventures, a bold drama fusing gritty realism with time travel fantasy, earned glowing reviews at the Royal Exchange in Manchester and has now moved to Newcastle's Live Theatre.
Another new play - Captain Amazing, about a superhero who does stand-up comedy - was staged at Live Theatre earlier this year and will travel to the Edinburgh Fringe in August.
McDowall, from Great Broughton in North Yorkshire, won the Bruntwood Prize for Playwriting in 2011 and is about to do an attachment with the National Theatre Studio.
Did you have a theatre experience that made you want to become a writer?
I grew up in quite a rural area so I didn't go to the theatre very often. But I had a very supportive drama teacher, Mrs Hunter. She was extremely encouraging and there was a good plays library in the drama classroom.
I would read as much as possible. I remember being about 15 and reading Waiting for Godot and Endgame and Harold Pinter and Sarah Kane and people like that. It had a big impact on me.
My teacher opened up that there were endless possibilities on stage, and imagination could never be tempered or diluted in theatre. I've never really liked being told what to do, so theatre's good because the writer's king. You can do absolutely anything you want.
Where did the idea for Brilliant Adventures come from?
I've no idea at all. I was walking around and the characters just turned up in my head and I thought, OK, this is what I'm doing next.
I feel like a half-fraud a lot of the time. I don't really feel like I made this thing up, I just feel like it turned up in my head and I had to hammer it out.
That's not to say it's something mystical and romantic. It's not at all. I think it's more mechanical and biological. Each play to me feels like a soup of all the elements of what's going on [in my life] at the time of writing.
Is it true that you lost your job the day before you won the Bruntwood Prize for Brilliant Adventures?
I had to re-interview for my job and I didn't get it. And then the next morning the Royal Exchange and the Bruntwood people gave me a cheque, which definitely made things a lot easier in the short term.
I was already making money from writing before then, but I needed that kick start, which the Bruntwood gave me.
What did you do?
I worked in an art gallery. I was an attendant and I did tours. I was telling people not to touch things - I'm one of those guys.
I wrote the play there, pretty much. I had a little notebook in my pocket and I'd do all my notes in the gallery and then I'd get home and write all the dialogue. I wrote the basic structure for the play while I was at the gallery.
Brilliant Adventures is set in Middlesbrough. You've said that not many plays are set in the north-east.
Unfortunately if you're writing a play about the north, people expect it to be about how grim it is up north and how hard it is to live up north and how no one wants to live up north.
Whereas if you write a play set in London or anywhere down south, it's just taken for read that that's the location. I want to just write stories, and sometimes they're going to be set in Middlesbrough, sometimes they're going to be set in London, sometimes they're going to be set in Uganda or Iceland or wherever.
I feel there's a lot of expectation that if you're writing a play set in a place like I've set my play, that it should be about people desperate to leave, and there shouldn't be a plot other than that. And it's quite important to me to feel free to set my plays where I want to set them and to be about what I want them to be about.
We hear lots of doom and gloom about regional theatres. Are there still opportunities for new voices to get heard?
There are. If you create good work that a theatre likes, they'll do what they can to make it happen.
Everyone wants to be putting this work on. It's just that with the money situation, it's become very hard for certain buildings to do so. I think certain institutions have toughened up, become more defiant and actually started to do more and more interesting and daring work.
Live Theatre have done two of my plays in the last couple of months - one is about a time machine on a derelict housing estate and the other is about a superhero. Neither of them are particularly conventional plays and neither of them are big West End hits. But they put them on because they had faith in them.
I don't think people are going to fold. People seem pretty defiant and driven to make the work they want to make and the rest be damned. Obviously they are harder times, but I can't do anything else but keep writing.