Torin Douglas: 24 years in media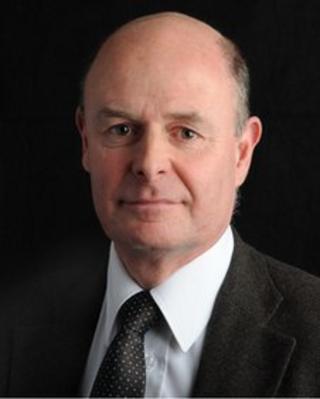 As he leaves the BBC after 24 years as its media correspondent, Torin Douglas reflects on the changes he has reported on.
If 24 hours is a long time in politics, 24 years is a lifetime in media.
A few days after I joined the BBC, in August 1989, Rupert Murdoch gave a speech which resonates to this day, lambasting the state of British television and predicting the rise of the multi-channel digital world.
In those days, Britain had just four main TV channels. The internet and mobile phones were in their infancy. There was no 24-hour television news.
No Google, YouTube, Facebook or Twitter. Interaction with the audience was via the phone-in and letters pages.
Those of us making radio programmes carried heavy tape recorders and edited spools of tape with razor blades. These were the days before 'health and safety' became paramount.
Then, as for most of the past 24 years, Rupert Murdoch was the most powerful figure in British media, feared by rivals, sought by politicians. But in 1989 he was still just a newspaper proprietor. His career as a global media mogul had hardly begun.
Two years before, he had broken the power of the newspaper print unions at Wapping. It meant papers could now be printed in colour, with many more pages and sections, using computer technology.
His competitors had benefited too - and new titles such as the Independent and the Sunday Correspondent had entered the market.
Now it was television's turn.
Rupert 'the outsider'
In February 1989 Murdoch had launched the Sky Television Network, offering four channels via satellite. A rival, British Satellite Broadcasting, would soon be on the air.
Giving the keynote MacTaggart Lecture, at the Edinburgh International Television Festival, Murdoch let rip, as I recalled on Radio 4's Today programme 20 years later.
Positioning himself in his favoured role as "the outsider", he denounced the "sneering" BBC-ITV duopoly, "protected by public subsidy and state privilege".
Those who ran television, he said, were "part of the British disease", hostile to markets and competition.
Their love of costume dramas reflected "the values of the narrow elite" in which "strangulated English accents dominate dramas played out in rigid, class-structured settings".
All that was about to change, he predicted. Multichannel pay-TV would become the norm, with television sets "linked by fibre-optic cable to a global cornucopia of programming and nearly infinite libraries of data, education and entertainment".
Much of Murdoch's vision came to pass - helping him build the profits that would bankroll his move into the United States and the rise of his global media empire.
But it was a huge risk. He "bet the company" on Sky and almost bankrupted it.
Sky and British Satellite Broadcasting traded blow for blow, as they tried to make pay-TV pay.
Within 18 months, both were making such huge losses - "haemorrhaging red ink" as CNN's Ted Turner put it - that they were forced to merge.
It would take several years and the "twin battering rams" of Hollywood movies and Premier League football to win viewers over to pay-TV and turn BSkyB into today's commercial TV powerhouse.
It has invested billions in delivering high-definition capacity for all UK broadcasters, but has also been accused by a succession of rival companies of undue market dominance.
But for the phone hacking scandal, BSkyB would now be wholly owned by Murdoch's News Corporation.
Instead, the company's troubled publishing interests are being separated from the much more profitable TV and film operations - with Rupert Murdoch still actively involved in both sides of the business.
Profits not programmes
Over the same 24 years, competition and convergence - the coming together of broadcasting, telecoms and the internet - have also brought huge changes to the public service duopoly of ITV and the BBC.
In 1989, ITV was far more powerful than it is today. It was a network of 14 regional companies, which made high-quality entertainment and factual programmes in cities across the UK, funded by their lucrative local monopolies of TV advertising.
Though an ITV franchise was no longer a "licence to print money" - as Lord Thomson of Fleet had earlier described it - the network was soon forced to focus more on profits than programmes.
Margaret Thatcher's government changed the rules, and in 1991 the licences were auctioned to the highest bidder, subject to a quality threshold.
The biggest company, Thames, which had a distinguished programme record, was outbid by a newcomer, Carlton.
To Mrs Thatcher's distress, the breakfast station TV-am, run her favourite TV executive Bruce Gyngell, also lost its licence.
As competition for viewers and advertisers grew, with lighter-touch regulation, a succession of mergers turned ITV into a single, commercially-oriented company, centralised in London instead of rooted across the UK.
It was still powerful, generating large audiences, but not what it was in its heyday.
The BBC fared better over the years, thanks partly to its guaranteed income from the licence fee - a huge advantage in uncertain commercial times.
But its success owed much to another powerful and controversial figure, John Birt, who was hired from London Weekend Television to shake up the BBC's journalism.
'Third leg' of broadcasting
He later became a forward-thinking director general, dragging the corporation kicking and screaming into the modern, competitive broadcasting world.
He didn't predict that the BBC would maintain such a dominant position in TV and radio broadcasting - he thought its audience share would become much smaller - but he laid the crucial groundwork that made it possible.
Above all, he spotted the crucial importance of the internet - as a third leg of broadcasting, alongside radio and television.
He invested in it accordingly, launching various online initiatives, until in 1997 the Government gave approval for the BBC News website to be funded by the licence fee as a service in its own right.
Who would have predicted in 1989 that the BBC would become more powerful, not less, in the multi-channel, digital world?
And that despite a succession of scandals and rows that have led to the departures of two director generals and two network controllers, the BBC would emerge stronger in the long run?
Or that the corporation would expand its global reputation, going from being a respected international news broadcaster to a digital pioneer, widely respected both for the BBC website and the BBC iPlayer and for its ground-breaking Olympics coverage?
But the BBC's success in the digital world has highlighted another fundamental change of the past 24 years. The online world has damaged - and in some cases broken - traditional media business models.
Newspaper publishers have seen their sales and advertising revenue slide, and though some have acquired many more followers on the internet - the Daily Mail website is the most popular in the world - they have found it hard to convert the extra eyeballs into income.
Some, such as the Murdoch titles, have imposed a pay wall, charging people to access their sites. Others are debating whether to follow suit - and all are unhappy at the BBC's ability to fund its website from the licence fee.
But some things have not changed.
'Power of television'
The phone hacking scandal shocked everyone and will continue to make headlines as journalists, newspaper executives, policemen and other public officials face criminal charges and in some cases jail.
Yet dreadful behaviour by newspapers is not new. In 1991, tabloid newspapers were told by a government minister that they were "drinking in the last chance saloon" unless they stopped harassing innocent people in their homes and hospital beds.
Statutory press regulation would be imposed unless they introduced a tough self-regulatory system. In place of the discredited Press Council, a new properly-funded Press Complaints Commission was set up - only to become discredited in its turn over phone hacking.
More than 20 years on, despite the Leveson Report and many hours of negotiations between government, the press and harassment victims, a coherent solution seems no nearer.
And, despite the rise of the internet and mobile devices, the power of the traditional broadcasting media remains undiminished.
In Britain, radio is still a crucially important medium for news, political debate and entertainment.
Radio 4's Today programme still sets the news agenda for millions of people each morning, and Radio 2 is extending its lead as the national's most popular station.
And despite numerous claims that "TV is dead" - supposedly killed by the internet - it continues to play a huge role in people's lives.
The biggest audiences may have gone down, as viewing is fragmented between ever more channels, but last year's Olympics still managed to attract more than 26 million viewers for the opening and closing ceremonies.
In 2012, according to BARB research, people still watched an average of four hours a day of 'linear television' - TV that is live or played back within seven days of broadcast, not counting downloads or 'TV on demand'.
Last year, Rupert Murdoch's daughter Elisabeth delivered the MacTaggart Lecture in Edinburgh.
Reflecting on the success of the London Olympics and the "exuberant and unrivalled BBC coverage" (not something you expect to hear from a Murdoch), she said: "It wasn't Twitter that made us cry, it was the power of television."
It remains to be seen how far that power is maintained over the next 24 years.