Fast & Furious 6 holds US box office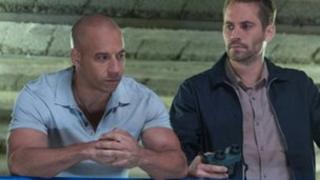 Fast & Furious 6 has fought off competition to stay atop the North American box office.
The action movie starring Vin Diesel earned $34.5m (£22.6m) ahead of Now You See Me with Morgan Freeman and Michael Caine which debuted with $28.1m (£18m).
Will Smith's sci-fi After Earth was a close third, opening with $27m (£17.6m).
The Hangover Part III fell from second to fifth place with $15.9m (£10.4m) - a drop from $52m (£34.3m) last week.
The final film in the comedy series, starring Bradley Cooper and Zach Galifianakis, faired better internationally, taking $82.3m (£54m).
Original versus sequel
In a season of sequels, three original films were among the most popular with cinema-goers at the weekend.
"Ordinarily, summer and sequel go together," said Paul Dergarabedian, analyst at box officer tracker Hollywood.com.
"This is a step in the direction of originality," he said.
Now You See Me, which follows illusionists who rob banks and share the spoils with their audience, exceeded expectations to land in second place.
"It certainly has been magic for us to watch the numbers this weekend," said Richie Fay, president of Lionsgate's US distribution.
Elsewhere in the chart Star Trek Into Darkness and the computer animated fantasy adventure Epic both earned $16.4m (£10.7m) to share fourth place.
Iron Man 3 added another $8m (£5.2m) to its tally to take the sixth spot followed by Baz Luhrmann's adaptation of The Great Gatsby, which earned $6.3m (£4.1m).
Also edging into the top 10 was the Indian film Yeh Jawaani Hai Deewani. It made $1.6m (£1m) from 162 cinemas to land at number eight.
"It's very unusual, but Bollywood films sometimes do crack into the top 20 or top 15 (domestically)," Dergarabedian said.
"They're usually not in that many theatres, but they make a big splash," he added.