Michael Douglas 'did not say oral sex caused his cancer'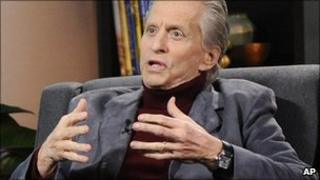 Hollywood actor Michael Douglas did not say he developed throat cancer because of oral sex, his publicist has said.
Douglas, diagnosed with cancer three years ago, was quoted as telling the Guardian his strain of cancer had been caused by HPV (human papillomavirus).
But in a statement to the BBC, the 68-year-old actor's spokesman sought to clarify that Douglas was not talking about his own cancer.
The World Health Organization says HPV can cause cancer of the head and neck.
In his emailed statement on Monday, Allen Burry said: "No. He [Douglas] did not say oral sex was the cause of his cancer."
The publicist referred to medical evidence linking oral sex to head neck cancer, adding "but [Douglas] did not say it was the cause to his specific cancer".
The Guardian stood by its story, releasing audio of the interview.
In the British newspaper's article on Sunday, Douglas was asked if, given his illness, he regretted his years of smoking and drinking.
The actor was quoted as saying: "No. Because without wanting to get too specific, this particular cancer is caused by HPV, which actually comes about from cunnilingus."
He continued: "I did worry if the stress caused by my son's incarceration didn't help trigger it. But yeah, it's a sexually transmitted disease that causes cancer."
The actor's illness is now in remission, following treatment.
His son, Cameron, is serving a prison sentence for drug possession and dealing.
Douglas, who is married to Welsh actress Catherine Zeta-Jones, was treated in the early 1990s for an addiction which some at the time claimed to be sex.
He himself denied this and said he was in rehab for alcohol abuse.