Sunrise festival 'went well', say Wiltshire police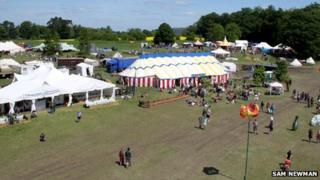 Thousands of people enjoyed the summer's first major music festival in the west of England this weekend, despite initial opposition to the event by local councillors and residents.
To allay fears in the lead-up to the event, organisers had forked out £15,000 for "special police services".
Festivalgoers were greeted at the gate by uniformed officers and sniffer dogs, while plain-clothes police mingled.
But the Sunrise festival "passed with minor incident", Wiltshire Police said.
During the four-day event, officers searched 53 people, 14 of whom received formal sanctions for drugs-related offences:
One was arrested on suspicion of possession with intent to supply
Three were cautioned for possession of class-A drugs
Ten received verbal warnings for possession of cannabis
Police also received 16 reports of thefts from tents. One person arrested on suspicion of theft has been released on police bail.
Insp Alan Webb, of Wiltshire Police, said: "Sunrise festival, from a policing perspective, went well.
"Throughout the event, my officers commented about what a friendly and good-natured crowd was in attendance. And on my visits to the site, this is also what I found."
Enjoying themselves
He added: "Over the weekend, the officers on site did deal with some minor disorder, including thefts from tents.
"Overall, the event seemed to have passed with only minor incident and reasonably low levels of criminality, with people enjoying themselves responsibly."
Ahead of a licence hearing in April, Dennis Barnard, chairman of Chapmanslade Parish Council, had said people living nearby had been "very concerned" about music being played until 03:00 BST.
"These festival organisers have previously run festivals at Bruton, which is about 13 miles away," he had said.
Fast-moving traffic
"We could hear from Chapmanslade, we could hear the music from those festivals.
"And there will be probably some alcohol. There will be some drugs - possibly - and we're very concerned about young people wandering about at night.
"There's a huge possibility of accidents with fast-moving traffic with very little light on that road."
But after the event, fellow councillor Phil Jefferson said: "The noise was at tolerable levels and wasn't too bad at all in the main part of the village.
"We didn't have the traffic tailbacks that we had feared, either.
Well organised
"The traffic management plan worked well and the marshals stopped people parking where they shouldn't.
"The neighbours with the biggest problem were those closest to the festival, as you would expect, but most people I've talked to said it was acceptable."
Mr Jefferson added: "We feel we were right in supporting the people who had concerns and putting pressure on organisers and other authorities.
"All in all, we feel that the pressure we put on the organisers had good effect and we are pleased with that.
"The weather was great and the festival was well organised."
Merrily grooving
Sunrise had abandoned the organic Somerset farm on which it had been held since 2009, after heavy rain turned the site into a sea of mud last year, in favour of a 150-acre disused golf course at Thoulstone Park, near the village of Chapmanslade, on the Wiltshire side of the border.
And some of the more seasoned revellers at the eighth annual festival initially seemed sceptical about the increased police presence and that of the "noise monitors" employed to ensure decibel levels remained within licensing restrictions.
But by Friday afternoon, as the sun began to shine and officers appeared to adopt an increasingly softly-softly approach, most - just like the local residents and councillors - had put their early reservations aside.
And as the weekend wore on, the police presence faded into the background and the predominant sight was one of hundreds of happy hippies merrily grooving away to the only-ever-so-slightly-muted sounds of, among others, re-formed 1980s Two-Tone heavyweights The Beat, former Specials singer Neville Staple, festival favourites The Dub Pistols and dance giants Utah Saints.