John McCririck: Channel 4 made me 'unemployable'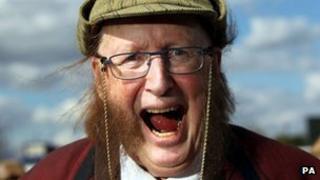 Racing pundit John McCririck has claimed Channel 4 has made him "unemployable" since dropping him from its presenting team last year.
The 73-year-old was speaking after a pre-hearing into his case against the broadcaster, in which he alleges he was sacked because of his age.
"I'm not doing any work now - I do odd little bits and pieces but there's no work coming in," he said.
He is seeking £3 million damages including loss of future earnings.
"It is the same with hundreds of thousands of people who suddenly lose their jobs - I'm now unemployable," McCririck told The Guardian.
His action "would immediately cease", he told reporters outside the Central London Employment Tribunal, if he were to be restored to the Channel 4 racing team.
"I want my job back," he said on Tuesday. "I'm not after the money."
New contract
The hearing heard how McCririck was originally hired by Highflyer, the production company responsible for Channel 4's horse racing output, in 1983.
In January 2008 he was told the number of days he would be working would be considerably reduced, which left the pundit "furious".
He was subsequently given an ex-gratia payment of £20,000, authorised by a senior Channel 4 executive.
In August that year, the broadcaster awarded the contract for racing from Highflyer to IMG Media Ltd for four years.
"I assumed that my contract would simply transfer from Highflyer to IMG Media on the same terms and conditions," McCririck said in his witness statement.
While he was on holiday in the US in October 2012, he went on, Channel 4 sports editor Jamie Aitchison called him to say his services were no longer required and no notice was given.
"Once I returned to the UK, it became apparent that four other presenters over the age of 50 - including myself - had all been dismissed by Jamie Aitchison at the same time," he said.
"I believe the only motive behind my being summarily sacked by my employer was my age.
"My experience, qualifications and work have always been exemplary and remain unimpaired."
'5,000 hours'
Channel 4 and IMG Media Ltd deny McCririck's allegations and that he was ever directly employed by them.
The broadcaster said he had only been commissioned to work for them through Highflyer, while it was producing its racing content.
Outside the tribunal, McCririck expressed his frustrations at the denial.
"I wasn't employed by Highflyer - Channel 4 employed me. Channel 4 decided that I went on air for 5,000 hours.
"Of course I was employed by Channel 4 - I was sacked by Jamie Aitchison."
A judge is expected to rule on whether the case should move to a full tribunal in several weeks.
The hearing continues.