Munch Museum finally approved in Oslo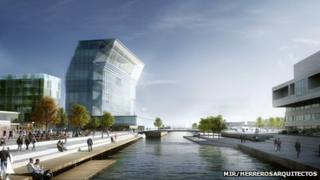 Plans to move the Munch Museum to a new location on Oslo's waterfront have been formally approved after four years of political wrangling.
The project had stalled in a row over costs and whether the new 12,000 sq ft (1115 sq m) glass structure should be built at the museum's current location in residential area Toyen.
The plans were officially approved by Oslo's city council on Wednesday.
The new museum, expected to cost 1.6bn kroner (£178m), is due to open in 2018.
Munch left his vast collection of artwork, including two versions of his masterpiece The Scream, to the city when he died in 1944.
However politicians had been accused of failing to take good care of the legacy by housing it in its current Toyen location - considered a rundown neighbourhood - with much of it stored away in damp cellars.
Spanish architectural firm Herreros Arquitectos won the contract to design the new waterfront building in 2009.
But political parties in opposition to the city government disagreed with the plans.
Concerned moving the museum would depress the neighbourhood even further, two parties had hoped the new building would be an anchor for redevelopment in Toyen.
Another party argued a new structure was too expensive and it would be better to move the collection to the city's National Gallery.
The new deal sees a commitment from the city council to redevelop Toyen, including the building of an aquatic park, open-air theatre and concert stage.
"Oslo is the fastest growing city in Europe and the new, modernist Munch Museum is part of that growth. [Because of the new museum] Munch will have a key role in how modern Oslo will look," Hallstein Bjercke, Oslo's commissioner for culture and industry said.
The news coincides with a major exhibition at the Munch Museum celebrating 150 years of Norway's most famous artist's birth.