Robin Thicke holds on to UK singles chart top spot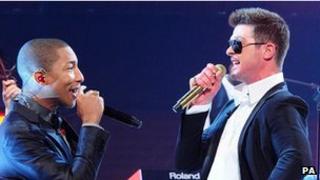 Robin Thicke's Blurred Lines, featuring TI and Pharrell Williams, continued its hold on the UK singles chart selling 10,000 more copies than last week.
According to the Official Chart Company, every number one in the past eight weeks has sold more than 100,000 copies per week - a first since 1999.
In the album chart, electronic band Disclosure beat Queens Of The Stone Age into second place by 7,000 copies.
"Proudest moment of our lives," UK brothers Guy and Howard Lawrence said.
Veteran rockers Queens of the Stone Age, lead by singer Josh Homme, enjoyed their highest UK chart entry to date with their sixth album ...Like Clockwork.
Other new entries in the album chart were from former Rascals frontman and Last Shadow Puppet Miles Kane - whose solo effort secured his highest chart position for Don't Forget Who You Are at number eight.
Supercollider, the 14th studio album from metal veterans Megadeth, just missed the top 20, landing at number 22.
Blurred Lines became the fastest selling single of the year last week for Thicke. This week's 199,000 copies of the track kept Naughty Boy ft Sam Smith's La La La at number two.
An Official Chart spokesman said sales of number one singles were "well and truly going through the roof right now".
Former number one, Daft Punk ft Pharrell held firm at three, as did Passenger's Let Her Go at four. Olly Murs climbed up one place to five with Dear Darlin'.
X Factor 2012 boy band Union J made their debut at number six with Carry You and Leah McFall of BBC One show The Voice scored her first top 20 hit with her take on Gloria Gaynor's disco classic I Will Survive.
It secured the number 16 spot after just 24 hours on sale.