James Tait Black prize creates new drama award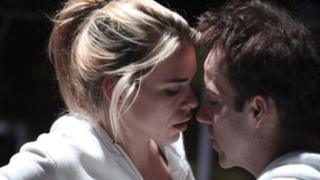 The James Tait Black Prize, the UK's oldest literary award, is to honour drama with a new £10,000 award.
Lucy Prebble's play, The Effect is among five nominees for the prize, chosen from more than 180 plays.
Also shortlisted is The Radicalisation of Bradley Manning, based on the true story of the soldier currently on trial for allegedly leaking military secrets.
Organisers said the award would go to the play that displays "an original theatrical voice".
One of the judges, playwright and lecturer, Nicola McCartney, said: "We are thrilled by the response to the first year of our drama prize.
"The shortlisted plays are of an incredibly high calibre and address a wide number of important issues - it will be a real challenge for the panel to choose a winner."
A commission for the London 2012 Festival and Cultural Olympiad produced by the National Theatre Wales has also made it onto the shortlist.
In Water I'm Weightless by Kaite O'Reilly is described as a series of provocative monologues originally performed by a cast of deaf and disabled performers.
Other nominated plays include The Hundred Flowers Project by Christopher Chen, which explores the connections between the Chinese cultural revolution and "the digital transformation sweeping the US today", and Foxfinder, a "darkly comic" drama by Dawn King about a man who visits a farm to eradicate a fox infestation.
Prebble's story about love and neuroscience set in a pharmaceutical testing centre was originally co-produced by Headlong and The National Theatre in London in November 2012.
Directed by Rupert Goold and starring Billie Piper, it was Prebble's follow-up to her hit 2009 play, Enron.
The judging panel for the new drama award includes representatives from Edinburgh University, the National Theatre of Scotland and Edinburgh's Traverse Theatre, where the winning play will be read on 5 August.