David Attenborough recovers from surgery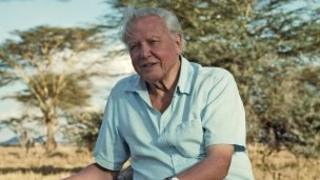 Naturalist David Attenborough has recovered from the surgery that forced him to pull out of shows in Australia last week.
Sir David, 87, was fitted with a pacemaker on 4 June, leading him to call off his Australia tour.
"Thank you everyone for all your wonderful and kind messages. Everything went well," he said in a statement.
He has now been passed fit to fly to Australia for rescheduled tour dates in July.
"I will see you in Australia very soon," he added.
Sir David had been due to begin his tour on 11 June but was told by his cardiologist that he urgently needed to have a pacemaker fitted.
His A Life on Earth tour will take in six cities in Australia, with the veteran broadcaster talking about "his extraordinary experiences, his stories [and] his achievements".
Sir David began his broadcasting career at the BBC in 1952, rising up the ranks to become controller of BBC Two.
But his love of nature documentaries and hatred of bureaucracy drew him away from management into freelance film-making.
Among his ground-breaking documentaries are The Trials of Life, The Living Planet, Life in the Freezer and The Private Life of Plants.