Man of Steel: a new era for Superman?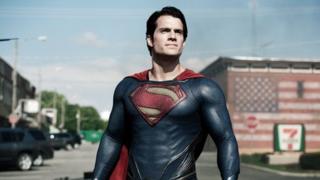 The wait is over for Superman fans as the much-anticipated film reboot, Man of Steel, is released in cinemas this weekend.
It is 35 years since Richard Donner's "origins" movie propelled Superman into the spotlight as a revolutionary superhero, impacting popular culture and influencing the various superhero movies that followed.
The iconic film also made actor Christopher Reeve a household name and spawned a series of sequels and new versions which have graced both the big and small screens, each hoping to capitalise on the popularity of a character whose ultimate goal was to save the human race.
Zack Snyder's bombastic 2013 revamp is a different take on a compelling character and an attempt to reinvent Kal-El, the son of Krypton, for the modern era and reposition him as the ultimate superhero who "does his thing among us".
"I believe he belongs at the top of the superhero pyramid because he is the first and purest mythological superhero," says Snyder.
"Every other is just a version of Superman with different dungeons and dragons," says the 47-year-old director behind Dawn of the Dead, 300 and Watchmen.
Modern superhero
In Man of Steel, Superman is no longer an impenetrable, godlike figure. Instead, he is portrayed as a young Clark Kent, in conflict with his identity.
As he grows older we see his emotional side as he grapples with human issues such as love, loss and divided loyalties.
"I didn't want him to exist in a stylised universe. The Superman mythology is way more potent when it's speaking to the modern condition that we are in. I think it makes him more interesting," says Snyder.
Suggestions of Snyder's involvement in the cult franchise arose around the time he was looking to make the 2009 costumed hero drama, Watchmen, which he made to "deconstruct" the mythology of comic book heroes.
"Once [I was] into [Watchmen, I was] thinking 'no, Superman's stupid, I'm cooler than that'."
Nevertheless, he had always been a fan and when producer Christopher Nolan, the force behind the successful Dark Knight franchise, asked him to come on board, he was "surprised by his reaction".
"I thought I'd be more snarky about it, but when I actually heard about it, I thought it was cool. Watchmen helped me because I knew how to take that same formula for destroying a superhero and flip it."
To create a "true reboot" of the film series, Snyder, Nolan and scriptwriter David S Goyer - another Dark Knight collaborator - set out to base their Superman solely on the 75 years of "dense" history created by the comic books.
"We really just pretended that the other movies didn't exist. The thesis was 'oh look we've found some comic books, we should make a movie out of these'.
"You can't cherry pick. You have to either wipe it clean or try and reimagine what exists already. Doing a [combination] is weird because you still have the baggage of the movies.
"We were trying to have no baggage but that also gives you no advantage, so you have to create your advantage," he says.
'Not corny'
What Man of Steel displays in highly visual and dramatic set pieces, it lacks in humour.
The fumbling, bumbling characteristics of the Reeve movies have been replaced by a po-faced Cavill, whose no-nonsense attitude leaves little time for romance with prize-winning journalist Lois Lane, played by Amy Adams. However, there are hints of a burgeoning romance.
"That earnestness is an essential part of Superman," suggests Snyder. "The nice thing is, he balances it with humanity which makes him not corny."
Referring to Donner's 1978 movie, Snyder says he was against creating a film that had any hint of a superhero who saved people with a wink and a smile.
"At the end of the movie, Christopher Reeve looks in the camera and smiles. In 1978 that made me crazy.
"I was 12 years old but it made me say 'why would you do this? You just ruined it for me because I believed that was real until that moment and now I know I'm watching a movie'."
Snyder also dismisses "purists" who have criticised his movie for portraying Superman as a superhero who causes chaos and destruction rather than preventing it, using the character's tragic back story as a defence.
"Everything you know about him in the last three minutes [of Man of Steel] is who he is; he doesn't want to kill.
"In classic superman mythology, he never kills. He always prevents as best he can. All the things you equate with Superman, I believe are still true, [Man of Steel] just offers an explanation for why that is the case."
As well as bringing along the hardcore fans, Snyder hopes Man of Steel will inspire a host of new Superman followers who were not around to see the last origin film 35 years ago.
"My kids have no idea what Superman's story is, that he's an alien, he's always been an alien.
"It's fun to know that for a generation of kids, this is going to be their Superman mythology, it's going to come from this movie," he says.
In the same way that Batman was reinvigorated as a cultural phenomenon with the multi-billion dollar Dark Knight series, Snyder hopes his revamp can help pave the way for Superman to return to the centre of popular culture and is "very interested" in continuing his involvement.
"It would be naive to say that we made this as a one-off. I feel this movie is just breaking the ice for Superman."
Man of Steel in UK cinemas now.