The total gross generated by 3D films in the UK falls again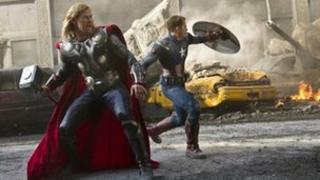 Films screened in 3D in 2012 generated 18 per cent of the UK's gross box office.
A total of 43 3D films were released, down from 47 in 2011, but the figures continue a slight downward trend.
Speaking to Radio 4's You and Yours Alex Stolz, of the British Film Institute Film Fund, said film-goers were becoming more selective.
Oscar-winning Life of Pi enjoyed a 79 per cent 3D attendance, accounting for £19m of its £24m take.
The 18 per cent gross income generated by 3D in 2012 continues a slight decline, down from 20 per cent in 2011 and 24 per cent in 2010.
Mr Stolz said while people are still attending the screenings they are not doing so in as many numbers.
He said: "It does seem to be a bit of a slide... on different titles people are making different decisions."
"On the big family films there seems to be a lower proportion of people opting to choose 3D. There were very successful films like Madagascar 3 and Brave, and only about a third of their total revenue came from 3D ticket sales."
The gross value of ticket sales in the UK was £1.099m, the second highest total of the past 10 years and up six per cent on 2011.
Part of that success can be attributed to the £102m generated by Skyfall, considerably ahead of its nearest rival The Dark Knight Rises which grossed £56m. Both films were 2D only releases.
The best performing 3D release was Marvel Avengers Assemble, with a total gross of almost £52m, £30m of which was from 3D showings.
Authentic
Film reviewer Charles Gant said the 3D attendance at films like Madagascar 3 and Brave could be down to families' need to economise, and that prices mounted when the 3D premium is taken into account alongside the need for several tickets and parking.
He added: "Superman will do well in 3D, people want to see the big event movies, but the word can circulate when there's just a shoddy conversion."
Alex Stolz said originally 3D was a novelty, but the technology was entering a period of maturity.
He said: "Life of Pi was conceived and produced by Ang Lee, an auteur, and audiences can tell the difference between an authentic 3D film rather than a bolt on."
Listen back to You and Yours