Cinema screening of Helen Mirren play breaks record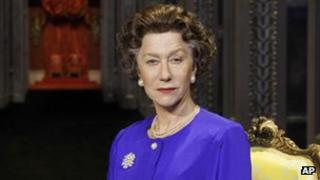 A live cinema broadcast of Helen Mirren's play The Audience has recorded the highest audience yet for National Theatre Live.
The 13 June broadcast from London's Gielgud Theatre was seen by nearly 30,000 people in North America and nearly 80,000 people in the UK.
David Sabel, executive producer of NT Live called it "very exciting".
They had expected a big audience, "but it's turned out even greater than expected'' he said.
There will now be more cinema screenings of the play - with nearly 800 in the UK and 700 in North America throughout the summer.
The National Theatre Live programme began four years ago with a screening of Phedre also starring Dame Helen.
Eight shows a year are broadcast to cinemas around the world, using multiple cameras, tracking shots and close-ups.
From an initial 280 cinemas, plays are now broadcast to almost 700 venues in 25 countries.
National Theatre Live's fifth season will include Othello starring Adrian Lester and directed by Nicholas Hytner, and Macbeth with Kenneth Branagh.
In 2014 the Donmar Warehouse's production of Coriolanus will be shown, as well as War Horse.
Despite the play having been a success in the UK and on Broadway already, Sabel believes there will still be a huge audience for a cinema screening of War Horse.
"There's going to be a lot of people who haven't had a chance to see it still or might want to see it again in a different guise," he said.
He said seeing a play screened in a cinema is "not a second-best experience. It's just a different experience".
"It reminds people of the excitement of going to live theatre."