Slim Whitman, US country singer, dies at 90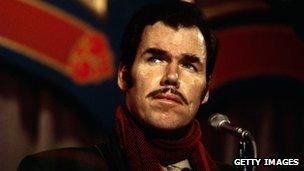 Slim Whitman, the American country singer known for his yodelling abilities, has died at the age of 90.
His son-in-law confirmed he died of heart failure overnight on Wednesday at Orange Park Medical Centre in Jacksonville, Florida.
Whitman had a string of hits in the 1950s and through the 1970s.
His 1955 song, Rose Marie, held the record for the longest reigning number one single in the UK until Bryan Adams broke the record in 1991.
Born Ottis Dewey Whitman Jr in Tampa, Florida, in 1923, Whitman spent time in the Navy before embarking on a music career, which began after he was approached by Elvis' manager, Colonel Tom Parker, who heard him singing on the radio.
Signed to RCA Records, he released his first single, I'm Casting My Lasso Towards the Sky, in 1948.
It marked the beginning of a career spanning some six decades during which he recorded more than 65 albums and sold millions of records worldwide.
Having struggled for the first few years of his musical career, Whitman's breakthrough hit came in 1952 with his cover of Bob Nolan's Love Song of the Waterfall, which peaked at number 10 in the US country chart.
While considered to have been more popular in Europe and particularly the UK than his native America, his 1952 track Indian Love Call and 1954 song Secret Love, both reached number two on the US Billboard country chart.
He had a further two top five hits in the US that same year.
Whitman's signature ebony moustache and sideburns inspired countless jokes, thanks to the TV adverts that promoted his music.
But he was a serious influence on music at the time and encouraged a young Elvis Presley when the singer made his professional debut.
In an interview with the BBC in 1973, Whitman recalled working with Presley in 1955.
"He was just a guy on the show," he said, adding: "And then he started wiggling and then he took over the show".
Whitman was invited to join the Grand Ole Opry following the success of Rose Marie, which spent 11 weeks at the top of the UK singles chart. It reached number four in the US.
Known for his mellow, romantic melodies, he became the first country singer to play the London Palladium in 1956.
He followed the appearance with a string of hits in the UK including Tumbling Tumbleweeds, Unchain My Heart, and I'll Take You Home Again Kathleen in 1957, another UK top 10 hit.
He also appeared in the rock and roll film musical Jamboree in 1957, along with a host of other music stars, including Carl Perkins and Fats Domino.
During the 1960s, Whitman had a series of minor country hits in the US, including More Than Yesterday in 1965, Rainbows Are Back in Style in 1968 and Tomorrow Never Comes released in 1970.
He continued to record in the early 1970s and was a guest on Wolfman Jack's popular TV music show on NBC, The Midnight Special.
"The material I did was lasting material,'' Whitman said in 1991.
"A lot of people thought I wasn't doing anything, but I was in the studio. The biggest factor is the material you choose. You hunt, you cut."
He was introduced to a much younger audience when his rendition of Indian Love Call was featured in the 1996 film Mars Attacks!
In 2003, Rob Zombie used Whitman's song I Remember You in his directorial debut, House of 1000 Corpses.
Whitman released his latest album, Twilight on the Trail, in 2012 - his first new studio record in 26 years.
Whitman told the AP news agency in 1991 he wanted to be remembered as "a nice guy."
"I don't think you've ever heard anything bad about me, and I'd like to keep it that way. I'd like my son (Bryon) to remember me as a good dad. I'd like the people to remember me as having a good voice and a clean suit," he said.
Whitman is survived by his daughter, Sharon Beagle, and his son, Byron Whitman.