Kanye West and Robin Thicke top music charts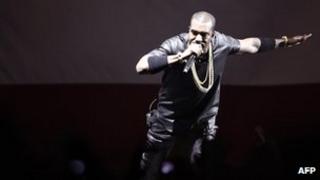 Kanye West has topped the UK album chart with Yeesus, while Robin Thicke has held on to the top spot in the singles chart for a fourth week with Blurred Lines.
Yeesus gives Kayne West his first number one album in the UK since Graduation in 2007.
It comes a week after the rap star became a father for the first time with Kim Kardashian.
Thicke's track Blurred Lines is now the second biggest-selling single of 2013.
According to the Official Chart Company the track has sold 718,000 copies.
The biggest-selling single so far this year is Daft Punk's Get Lucky, which has now sold just under a million copies.
Jason Derulo had to make do with the number two spot in the singles chart for his track The Other Side
The other new entry in the top five was Dizzee Rascal and Robbie Williams' Goin' Crazy, which went in at number five.
Chart debuts
BRIT Awards Critics' Choice winner Tom Odell has made his top 10 debut with his track Another Love.
He is at number 10, while at number 11 is the Arctic Monkeys' Do I Wanna Know.
The band, scheduled to headline Glastonbury next weekend, released their single as a digital download on 19 June, without any publicity.
The Voice's Leah McFall lost out to Andrea Begley in the show final but she has got her second top 40 single. Her version of Killing Me Softly is at number 36.
In the album chart race midweek figures had shown Kodaline were leading the battle for the number one spot.
But the Dublin band only made it to number three with their debut album In A Perfect World.
Kanye West going in at number one pushed last week's chart topper Back Sabbath into the number two position.
Making up the rest of the album chart top five are Rod Stewart's Time at four and Passenger's All The Little Lights at five.
Jay-Z protege J Cole achieved his highest UK album chart position as Born Sinner went in at number seven.
Meanwhile Sigur Ros got their third UK top 10 album with Kveikur at number nine.