Monsters trounce zombies and Superman at US box office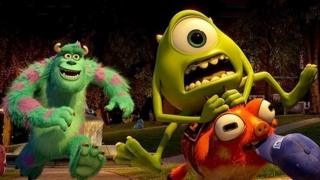 Monsters University has topped the US box office, beating the zombies of World War Z and Superman in Man of Steel, according to studio estimates.
Monsters University is Pixar's 14th consecutive film to open at number one, exceeding studio expectations by taking $82m (£53m), according to Dave Hollis, Disney's head of distribution.
World War Z, which stars Brad Pitt, was second with $66m (£42.9m).
Superman reboot Man of Steel came third with $41.2m (£26.8m).
Hollis said of the three films: "The diversity of this weekend is part of what makes this business so great. It's a really extraordinary weekend for the industry."
Paramount's World War Z did well, despite reports of problems with a revamped ending, plus rewrites and reshoots which sent the film over budget.
"What World War Z proves is that all the negative backstory that can be thrown at a movie doesn't matter if the movie's good," said Paul Dergarabedian of box-office tracker Hollywood.com.
"I don't think the audience cares one lick if they had to reshoot the ending if they like the ending and like the movie."
Paramount's president of domestic distribution, Don Harris, said: "It's the biggest live-action original opening since Avatar", adding it was "Brad Pitt's biggest opening ever".
In terms of Paramount's recent blockbusters, he added, it ranked behind Iron Man and Transformers as "the third largest potential franchise opening in the history of the company".
Warner Bros' Man of Steel, which stars British actor Henry Cavill, is in its second week of release, and came third, bringing its US revenue to more than $210m (£136).
This Is The End, which stars Seth Rogen, James Franco and Jonah Hill, playing themselves during the apocalypse, came fourth.
Magic heist thriller Now You See Me held onto fifth place.