Halle Berry to back paparazzi bill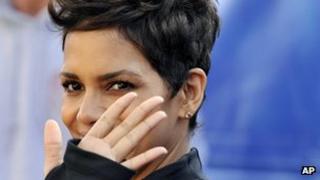 Halle Berry is to testify in favour of new legislation which would limit the paparazzi's ability to photograph stars' children, the LA Times reports.
The bill would modify the definition of harassment in California to include photographing or recording a child without the permission of a guardian.
Berry is expected to testify in Sacramento, California, on Tuesday.
The legislation specifically mentions photography involving "following the child's activities or lying in wait".
It also refers to targeting a child because of a parent's line of work.
The Academy award-winning actress was seen shouting at photographers taking pictures of her family after arriving at Los Angeles International airport in April with her partner Olivier Martinez and her young daughter.
Senator Kevin de Leon, who wrote the bill, also wants to protect the children of public officials, including judges and law enforcement, from harassment, said spokesman Greg Hayes.
A first conviction under such new legislation could result in between 10 days and one year in jail, as well as a fine of up to $10,000 (£6,472).
Senator de Leon explains in an author's statement, published on his website, that he wishes to amend the original legislation, which was passed in 1994 "to address the increased harassment faced by the children of health care facility employees where abortion procedures were performed".
"Although [the bill] has been on the books for nearly 20 years, children continue to fall prey to intentional harassment because the law provided for relatively weak penalties," he continued.
"By setting mandatory minimum terms and authorising fines of up to $10,000 for repeated violations, [the amendment] will have a significant deterrent effect."
The Motion Picture Association of America is among several groups that oppose the legislation, saying it infringes upon free speech protections.
Jim Ewert, general counsel for the California Newspaper Publishers Association, told the LA Times there were already enough laws preventing harassment and he was concerned it could criminalise legitimate journalism.
"It's what journalists do," he said. "They take pictures."
Other organisations in opposition include the National Press Photographers Association and the California Broadcasters Association.
Supporters include the California Police Chiefs Association and the Los Angeles District Attorney's Office.