James Gandolfini funeral held in New York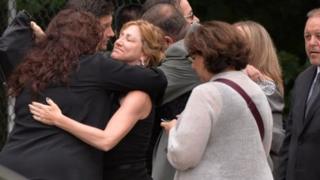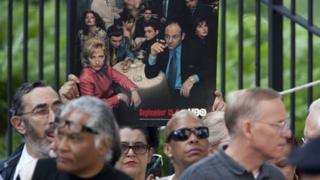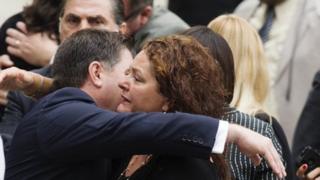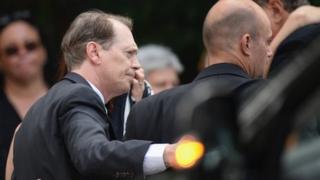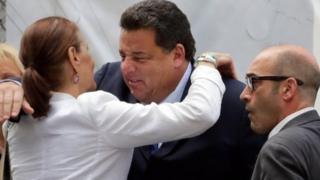 Family, friends and fans have paid tribute to The Sopranos star James Gandolfini at his funeral in New York, a week after he died in Italy.
David Chase, who created the show that made the actor a household name, was among the speakers.
"You were a good boy," he said during the ceremony at New York's Cathedral Church of Saint John the Divine.
Gandolfini, who was 51, died following a heart attack last Wednesday while on holiday with his son.
One of four speakers at the funeral, Chase remembered Gandolfini in the form of a letter to the actor, in the present tense, saying he brought the traits of a sad boy, "amazed and confused," to the role of Tony Soprano.
'Uncharted place'
"You could see it in your eyes. That's why you were a great actor."
Chase recalled that Gandolfini once told him: "You know what I want to be? A man. That's all. I want to be a man." Chase said he marvelled upon hearing that, since the actor represented a man so many others wanted to be.
Gandolfini's widow, Deborah Lin, and two family friends also spoke during the service.
Ms Lin paid tribute to Gandolfini as a loving husband and an attentive father to their nine-month-old daughter. She said he was "always trying to help someone".
And his long-time dialogue coach, Susan Aston, spoke of how much effort Gandolfini put into his acting.
"He was disciplined, he studied his roles and did his homework," she said, but then "through an act of faith, he allowed himself to go to an uncharted place... He remained vulnerable, and kept his heart open in his life and in his work."
The New Jersey native's portrayal of the mob boss in the HBO series won him three Emmy Awards as best actor in a drama series. The show ran for six seasons.
Aida Turturro, who played Gandolfini's sister in The Sopranos, was one of the first from the show's large cast to arrive for the funeral service at 10:00 EST, which was led by the Very Reverend Dr James A Kowalski.
Some 1,500 seats had been set up in the church for celebrities, fellow actors and members of the public who wanted to pay their respects to the star.
Several other members of the cast of The Sopranos attended, including Edie Falco, Joe Pantoliano, Dominic Chianese, and Steve Buscemi.
New Jersey's Governor Chris Christie also made an appearance.
The funeral took place a day after a private family wake was held in New Jersey on Wednesday.
Broadway theatres later paid tribute to the actor, who was nominated for a Tony Award in 2009 for his role in God of Carnage, by dimming their lights.