The Marlowe Papers wins Desmond Elliott Prize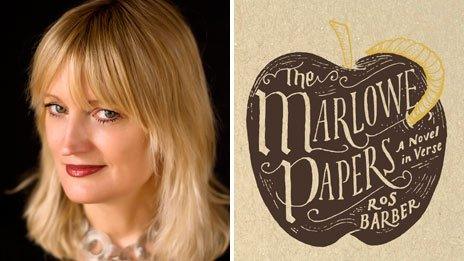 Ros Barber's The Marlowe Papers, a novel written entirely in verse, has won the annual Desmond Elliott Prize for debut fiction.
The book explores the intrigue around the death of Christopher Marlowe and the authorship of Shakespeare's plays.
Joanne Harris, the chair of judges, described the novel as a "unique historical conspiracy story".
The £10,000 prize is named after the distinguished publisher and literary agent Desmond Elliott who died in 2003.
Barber, already a published poet, beat fellow debut authors Jenni Fagan, shortlisted for The Panopticon, and Gavin Extence, for The Universe Versus Alex Woods.
Harris said: "Barber's novel stood out from the shortlist because it is a unique historical conspiracy story that engages all the senses.
"It is as enticing as a top-flight thriller, with the welcome addition of gorgeous, evocative language as visual and concise as a screenplay.
"The Marlowe Papers is technically accomplished and hugely impressive in both style and scope, enhanced by being written in verse, it is certainly an ambitious undertaking for a new novelist - I cannot wait to read Barber's next book."
The Marlowe Papers was longlisted for this year's Women's Fiction Prize.
US-born Barber was inspired to write her debut novel while watching a Channel 4 documentary in which Shakespeare scholar Jonathan Bate dismissed the theory that playwright Marlowe was the true author of the works of Shakespeare as the stuff of fiction.
The former computer programmer worked on the book for four years as part of a PhD.
In her story, Marlowe's "death" in a tavern brawl is revealed to be a ruse to avoid being hanged for heresy; and he is spirited abroad where he writes plays in exile under the name of William Shakespeare.
Now in its sixth year, the prize's past winners include Grace McCleen (The Land of Decoration, 2012) and Anjali Joseph (Saraswati Park, 2011).
Barber was born in Washington DC, where her father was working for the US government, and grew up in Essex, later moving to Sussex to study. She now lives in Brighton and has four children.
She is the author of three volumes of poetry and she was recently appointed associate of the Shakespearian Authorship Trust - a charity which aims "to seek, and if possible establish, the truth concerning the authorship of Shakespeare's plays and poems".
The authorship debate was in the spotlight in 2011 when Roland Emmerich's film, Anonymous, portrayed Shakespeare (played by Rafe Spall) as an inarticulate buffoon.
Rhys Ifans played Edward de Vere - the 17th Earl of Oxford - who was credited as the true genius behind the words of the Bard.
Related Internet Links
The BBC is not responsible for the content of external sites.