Cameron Diaz to star in Annie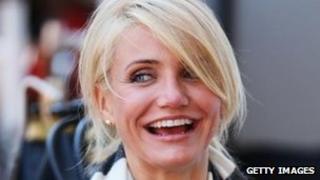 Cameron Diaz is to play Miss Hannigan, the mean-spirited head of a New York orphanage, in the forthcoming remake of 1980s stage musical Annie.
Sandra Bullock was reportedly in talks to play the role, but film studio Sony confirmed Diaz's casting on Wednesday.
Diaz will join Oscar nominee Quvenzhane Wallis, who plays the title role, and Jamie Foxx, as a modern incarnation of billionaire figure Daddy Warbucks.
The film, produced by Jay-Z and Will Smith, is due out in December 2014.
Will Gluck, best known for comedy Friends With Benefits, will direct.
Adapted from the stage musical - which itself was originally based on a comic strip - the action follows orphan Annie's search for her family. It produced a string of hits including It's the Hard-Knock Life and Tomorrow.
It was first made into a film in 1982, with Carol Burnett in the Miss Hannigan role and Albert Finney as Warbucks. Aileen Quinn played Annie.
Cameron Diaz is currently filming The Other Woman, which co-stars Nicki Minaj and Leslie Mann.