Pierce Brosnan's daughter dies of ovarian cancer age 41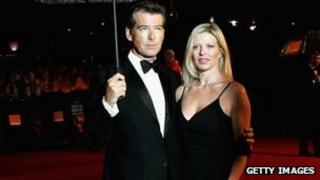 Pierce Brosnan has paid tribute to his daughter Charlotte, who has died of ovarian cancer, aged 41.
In a statement Brosnan said his "darling daughter Charlotte Emily passed on to eternal life" on June 28.
It is the same cancer that killed her mother, Cassandra Harris, who was Brosnan's first wife.
"Our hearts are heavy with the loss of our beautiful dear girl," he said. "Charlotte fought her cancer with grace and humanity, courage and dignity."
Brosnan adopted Charlotte and her brother Christopher after their father died in 1986.
Cassandra Harris died in 1990 at age 43. Charlotte had been suffering from the disease for three years.
'Pray for a cure'
The statement said that Charlotte had died surrounded by her husband Alex, children Isabella and Lucas and brothers Christopher and Sean.
Brosnan also thanked people for "their heartfelt condolences".
"We pray for her and that the cure for this wretched disease will be close at hand soon," he said.
Annwen Jones, chief executive, of Target Ovarian Cancer has also paid tribute.
"Our deepest condolences go out to the family of Charlotte Brosnan, particularly following the deaths of other family members to the same disease," she said.
"Too few women understand the connection between familial breast and ovarian cancer, and more must be done to raise awareness of the familial links of ovarian cancer, and improve treatments.
"We encourage all women to know their family history - on both their mother's and father's sides, and visit their doctor with any concerns."