Despicable Me 2 tops US box office chart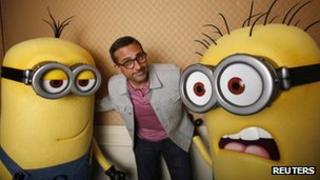 Despicable Me 2 has topped the US box office chart, beating Johnny Depp's The Lone Ranger to the top spot.
The Universal Pictures animation sequel made $82.5m (£55.4m) over the weekend according to early estimates.
Disney's Lone Ranger, starring Depp as Tonto in a reboot of the radio and TV series, took just $29.5m (£19.8m).
Dave Hollis, Disney's head of distribution, said: "We thought it would appeal to a broader audience than it did."
The film, which has received poor reviews from critics, reportedly cost at least $225m (£151m) to make.
The majority of the film's audience in its debut weekend were over 25 years of age.
"You think you have everything in place," said Hollis.
"Even when you have all the ingredients for what you think will be a four-quadrant 'everybody' picture, sometimes it doesn't work out that way."
Despicable Me 2 stars Steve Carell as a villain who becomes a stay-at-home dad.
The family film features the now famous little yellow creatures called minions.
Nikki Rocco, head of distribution, said a third Despicable Me film was in the pipeline.
"The minions steal everybody's heart," said Rocco. "It's a great time of year to release a family film with broad appeal."
Last week's number one, female cop comedy The Heat starring Sandra Bullock and Melissa McCarthy, fell to third place taking $25m (£16.7m).
Monsters University and Brad Pitt's World War Z rounded out the top five.