Rembrandt show for National Gallery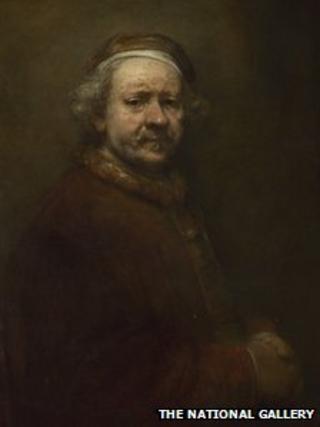 An exhibition examining Rembrandt's later works is set to open at the National Gallery in London next year.
Rembrandt: The Final Years will feature around 40 paintings, 20 drawings and 30 prints by the Dutch master.
In collaboration with the Rijksmuseum in Amsterdam, the exhibition will also include key works on loan from other European and American museums.
The show will run in London from 15 October 2014 to 18 January 2015 and in Amsterdam from February 2015.
The gallery said the exhibition would highlight the "inspired unprecedented creativity" of the artist's later years.
"Soulful, honest and deeply moving, in many ways it is the art of these late years that indelibly defines our image of Rembrandt the man and the artist," it said.
Betsy Wieseman, the gallery's curator of Dutch and Flemish paintings, told The Guardian: "As a mature artist he felt himself less bound by conventions and more willing to take artistic and iconographic risks - to venture into areas that other artists weren't willing to go."
The Rembrandt exhibition is one of five new shows planned for the National Gallery for 2014.
Other shows announced include Colour - which will examine the materials used to create colour in paintings and other works of art - while works by Hans Holbein the Younger and Lucas Cranach the Elder will feature in Strange Beauty: Masters of the German Renaissance.
Also planned for the Sunley Room are the exhibitions Veronese: Magnificence in Renaissance Venice from March; and Building The Picture: Architecture in Italian Renaissance Painting from April.