World's End: Edgar Wright invites pub crawl pals to premiere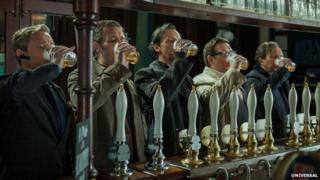 When Edgar Wright unveils his sci-fi comedy The World's End this week it won't just be star names on the guest list.
The director revealed that Wednesday's world premiere in London will also be attended by the childhood friends who joined him on a pub crawl in the 1990s that inspired the film.
The World's End reunites Wright with actors Simon Pegg and Nick Frost following their successes with Shaun of the Dead and Hot Fuzz.
The film opens in cinemas on 19 July.
It stars Pegg as an immature 40-something who drags four friends on a 12-pint drinking marathon in the small English town of Newton Haven where they grew up.
The gang's goal is to reach the final pub - The World's End - even as events take an unpredictable turn.
'Memorable night'
The reluctant ex-schoolmates are played by Frost, Martin Freeman, Paddy Considine and Eddie Marsan.
"The pub crawl idea is something that had been been gnawing at me for a long time," Wright said on Tuesday.
"I had tried to do it in my home town in Somerset - which is actually the place where we shot Hot Fuzz - and had failed miserably at the age of 19.
"It was a particularly memorable night even though I'd only got through six of the 15 pubs."
He added: "I've invited all of the people who came on the pub crawl with me to the premiere. Two of them I haven't seen in over 10 years. It's going to be amazing."
Wright said he had taken Pegg and Frost on a follow-up pub crawl in Somerset before they shot Shaun of the Dead in 2004.
"What was interesting was that second time around I was aware how pathetic it was trying to recapture this night from when I was a teenager.
"It struck me as something that was very rich for a character comedy."