Ben Wheatley 'overwhelmed' with reaction to A Field In England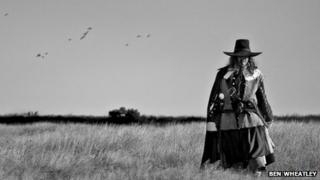 Director Ben Wheatley has said he is "overwhelmed" with the reaction to his latest film, A Field in England, the first UK film to be released simultaneously on all formats.
Wheatley's "psychedelic trip", set during the English Civil War has taken £27,000 at the box office since Friday, according to Rentrak.
The 91-minute film also premiered on DVD, TV and through video-on-demand.
Some 367,000 viewers have since tuned in to watch it on Film 4.
As part of its simultaneous release the historical thriller, starring Michael Smiley as an alchemist who forces a group of deserters to help him find hidden treasure amid a field of magic mushrooms, was released by Picturehouse Entertainment in 17 UK cinemas.
Over the weekend, it took £21,399 in box office receipts - an average of £1,259 per cinema, adding another £6,601 to its tally from screenings on Monday and Tuesday.
Experimental
It has also been Film 4's bestselling title on its On Demand service, while 2,380 copies of the film have been sold on DVD.
Its release on several platforms on the same day was dubbed "an interesting experiment" by distributors.
"I think it's a very specific way of doing it," Wheatley told the BBC News website on Wednesday.
"I think you need to be financed by a channel for it to work. Without the channel behind you in the way that Four were, it would be hard to do."
The film, developed in partnership with Film 4's experimental division, Film 4.0 and the BFI, was made on a modest budget of £300,000.
Wheatley, whose previous films include Sightseers, Kill List and Down Terrace, said the release model was an appropriate way to maximise audience figures for a film made on such a small budget.
"For this film, it makes sense. I'm really happy that people in Wales [where there were no screenings] could see it.
'Long game'
"In the grand scheme of things, they would have had to wait to buy it on Blu Ray, but that would have been a couple of months down the line," he said, adding at that point, "the message is diluted".
Sue Bruce-Smith, Film 4's head of commercial and brand strategy said she was "thrilled" that audiences "embraced" the film with such enthusiasm.
"We really believe we need to challenge traditional release patterns, particularly when it comes to independent films, to get as large an audience as possible to the work of bold and brilliant filmmakers like Ben," she said.
"The fantastic results across all platforms prove that there is a different way of doing things which benefits audiences, filmmakers and industry alike."
However there is an argument such a concentrated release might not maintain interest in the long run - one which Wheatley disagrees with.
"I think the exposure to the general audience in that moment is almost worth the risk," he said.
"Cinema is a long game. It takes a long time to seep into the consciousness of the country. The culture is so massive and a cinema release - even if it's quite a big one - is still a tiny, tiny proportion of those people."
Despite the film being available to the public free of charge on Film 4, five of the 17 cinemas it was screened in - London, Brighton and Edinburgh - sold out, which is down to the cinema offering a "different experience" to watching it on TV, Wheatley suggested.
"The images are designed to be seen on a big screen," he said.
"To see something where you've got something at the periphery of your vision is a totally different experience to seeing an image that has got your front room around most of the edge of it."