How '80s club culture came to the catwalk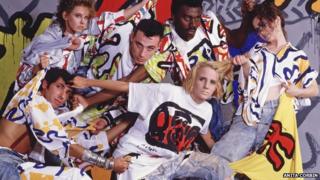 A new exhibition at the Victoria and Albert Museum looks at how clubbers' style in the 1980s transferred to the world of fashion. Was it the point at which the underground went mainstream and is there any equivalent today?
For anyone who recalls '80s fashions, a trip to the V&A in London is currently a deeply evocative experience - even if its galleries are rather more bright and airy than the smoky locations where the clothes were seen first time round.
Well-known British designers featured include Katherine Hamnett, Paul Smith, Workers for Freedom and Betty Jackson.
Club to Catwalk has a specific thesis: that 30 years ago the best of British fashion was intimately linked to what was worn in London clubs as the influence of Punk finally waned.
"In the 1980s two big things were happening in London fashion," says Claire Wilcox, head of fashion at the V&A.
"In 1984 London Fashion Week started up. For the first time designer creations were being shown under the same roof: it put British fashion on the map in a much more professionalised way. And there was increased government support.
"But parallel to that was the emergence of a really exciting underground club culture. There was a huge new energy and someone like the milliner Stephen Jones could make hats for Princess Diana but also for Boy George.
"You had individuals such as Steve Strange and Rusty Egan organising club nights where fashion was at least as important as the music.
"In those days clubs like the Blitz, Club for Heroes in Baker Street and Heaven provided the unofficial side of London fashion. But the creativity on display was incredibly influential."
Half the V&A exhibition concentrates on big designers while the other half identifies the tribes and trends of the era including Goths, New Romantics and rave culture.
Themes emerge such as the new importance of textile design and the familiar loose-shirted silhouette of the early '80s.
Wilcox thinks what was going on derived in part from social and political tensions in the Britain of that decade. Yet only a few items in the show make direct political comments.
"The best known are probably the Katherine Hamnett T-shirts with their political slogans. But it's true that the '80s seemed to value eccentricity as much as activism. I'm not sure we see as much eccentricity these days.
"There was a sort of anarchic hedonism which led to a great fearlessness in young designers. They would go to art school or to their studio in the day and then go out clubbing in the evening, picking up fresh ideas. But there was a natural synergy because the clubs also loved the energy the fashion world provided.
"Punk had run its course but it was in a way the anarchic godparent to 1980s fashion. It gave permission for individuals to customise and create their own clothing.
"But you also have Vivienne Westwood launching her Pirate Collection in 1981: it was a colourful and exhilarating catwalk show which rejected the nihilism of Punk.
"And there was a lot of humour around - probably more than today. One of my favourites in the exhibition is a Rachel Auburn shirt which was worn with men's Y-fronts and some stockings and a feather boa. Every time I walk past it I smile. But in fact if you look closely at the shirt it's beautifully crafted."
The new show makes clear the link from '80s clubs to the wider world of fashion. So is there any such connection today?
Wilcox calls the '80s the "last analogue decade".
"Things have changed so much," she says. "Pre-internet we learnt about trends by seeing them with our own eyes in clubs or on the street or occasionally on TV. Now it's hugely more likely to come from reading a fashion blog or seeing an image online.
"If you go out onto the streets you will still see fantastically dressed people. But if you want to comment on what you see these days it will be in social media.
"It's a different world - but the creativity of British fashion is as strong as it was 30 years ago."
From Club to Catwalk runs at the V&A until February 2014.