Call for BBC Trust chairman Lord Patten to quit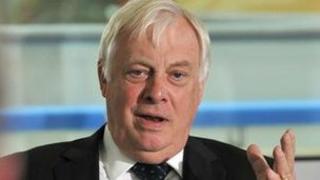 The BBC Trust chairman Lord Patten must stand down over severance payments made to senior managers at the corporation, an ex-BBC governor for Wales says.
Lord Patten and director general Lord Hall have been questioned by MPs on the Public Accounts Committee over £25m paid to 150 outgoing executives.
Lord Patten said he was not told some pay-offs went beyond contractual terms.
But Sir Roger Jones said the chairman should have known and added it was time for him to step down.
"I don't think he's done a good job, there have been several serious questions about his judgement," he said.
"I think they should go back to rebuilding the governance system the way it was, there was nothing wrong with it."
The BBC was criticised by the National Audit Office (NAO) in a report published earlier this month saying the scale of the payments risked public trust.
The NAO noted that former BBC director general George Entwistle was paid £475,000 after he announced his resignation in November 2012. This included three weeks' salary worth £25,000 that was not part of his severance package of £450,000.
Lord Patten told the committee of MPs that the Trust was only contacted about two of the payments by former director general Mark Thompson and was assured they were within contractual terms and had been signed off by the executive remuneration committee.
He said he was not told some payoffs went beyond contractual terms, adding he would "be as interested as you are why we didn't know".
Lord Hall told the committee "the onus of responsibility for these decisions on these payments lies with the BBC."
"We got this wrong - we were overpaying. The fault lies with us - the executive of the BBC," he said.
'Severance payments'
The BBC Trust replaced the board of governors in the wake of the Hutton Report in 2004, which highlighted problems with the governors' dual role as both the corporation's champions and regulators.
The Trust said in a statement: "The charter clearly sets out that the BBC Trust is not responsible for operational issues like severance payments to individual managers within the BBC executive.
"However, it was the Trust that proposed the NAO to look into this issue across the BBC and as a result it is now being debated and dealt with.
"As for Lord Patten, he is fully committed to dealing with this and other issues to ensure that the interests of licence fee payers are fully represented at the BBC."