Michael Jackson 'frightened me' director tells US court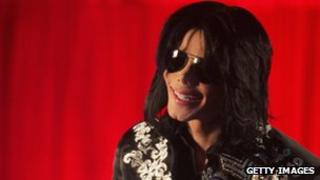 The director of Michael Jackson's planned comeback shows, Kenny Ortega, has broken down in tears while giving evidence at the singer's wrongful death trial in the US.
Ortega said Jackson's appearance was "very, very troubling" at a rehearsal, days before his death in June 2009.
"I saw a Michael that frightened me," Ortega told the jury.
The director was giving evidence for a third day in the case against live event promoter AEG Live.
The company is being sued by Jackson's mother for $40bn (£26bn) over his death.
Katherine Jackson claims the company failed to properly investigate her son's personal doctor, Conrad Murray, and missed warning signs about his failing health as he prepared for his This Is It tour.
Murray was convicted of involuntary manslaughter after giving Jackson a lethal dose of the anaesthetic propofol in 2009.
Missed rehearsals
The company has denied any wrongdoing.
Ortega told the jury on Wednesday that, based on Jackson's condition, he didn't believe the This Is It concerts could go forward.
He said Jackson appeared to be under the influence of an unknown substance during at least four rehearsals.
The director-choreographer said he was under the impression Jackson's strange behaviour followed visits to his doctor.
The singer's state was "fairly obvious" to others involved in the production, he added.
Jackson also missed several scheduled rehearsals, said Ortega, adding that during a session six days before his death, he was cold, shivering and seemed lost.
Ortega, 63, told the court that Jackson improved somewhat as the night went on but wasn't coherent when he arrived that day. The singer didn't rehearse that night.
Reading an email he sent to the CEO of concert promoter AEG Live hours after the rehearsal, Ortega shed tears as he described Jackson as a "lost boy".
The director said he sent the email to alert AEG officials about Jackson's condition and trusted them to get the singer appropriate care.
He said he repeatedly called Murray that night, "the doctor who I thought would be the most natural person" to help.
"Then I reached out to AEG, Michael's partners, to make sure they were aware of how I felt and what I saw," he added.
Ortega outlined a tense meeting with Murray the following day, during which Murray assured him and AEG Live CEO Randy Phillips that Jackson was capable of rehearsing.
AEG has denied it hired Murray and said there was no way it could have known the doctor was giving Jackson propofol as a sleep aid.
Ortega - who directed the High School musical trilogy - is the highest-ranking tour worker to give evidence at the trial and had the most direct contact with AEG executives and Jackson.
The trial, currently in its 11th week, is expected to last until the end of July.