Domingo leaves hospital after blood clot treatment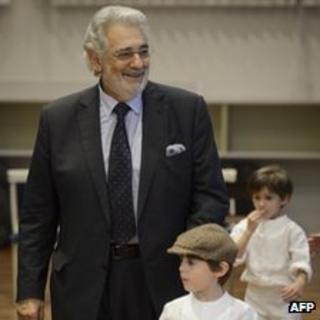 Opera singer Placido Domingo has said an early diagnosis for a blocked blood vessel saved him from possibly more serious medical complications.
After spending five days in hospital in Madrid, the 72-year-old said he had felt ill after a rehearsal.
A doctor quickly diagnosed him with deep vein thrombosis.
"I thought I would return from the check-up straight away back to the rehearsal. But I was told, 'No, there is something serious here'," he said.
Domingo was speaking at Madrid's opera house alongside one of the doctors who treated him.
Dr Carlos Gonzalez explained that a blood clot had formed in Domingo's right leg and moved up to his lungs where it then lodged in an artery.
He said it was not an unusual condition, and that it was often linked to spending hours sitting down on long flights.
"It sounds catastrophic, but it didn't turn out like that," Dr Gonzalez said.
"We established an early diagnosis, and there should be a good recovery, a complete and full recovery."
'Recuperation period'
Domingo said he had studied Giuseppe Verdi's Giovanna d'Arco during the five days he was in the hospital, and he hopes to be well enough to sing his part in it at the Salzburg Festival in early August.
He said he had tried to cancel it but festival organisers told him the person available to replace him had not fully learned the part so Domingo decided to go ahead with his appearance.
"He also looks forward to keeping his engagements in Verona where he will sing and conduct Operalia," said Nancy Seltzer, the singer's US agent.
Domingo spoke just before attending a piano dress rehearsal of Daniel Catan's Il Postino in Madrid on Sunday evening, a day after leaving hospital.
His hospital stay meant he had to cancel several appearances including six shows of Il Postino.
Alvaro Domingo, the tenor's son, told the Associated Press he expected his father to spend three weeks recuperating in Madrid and that the star was not contemplating retirement.
It is not the first time Domingo has received treatment for a serious medical condition.
In 2010, he had a cancerous polyp removed from his colon after becoming ill while on tour in Japan, returning to the stage five weeks later.
Domingo, who gained worldwide recognition for his Three Tenors performances with Jose Carreras and Luciano Pavarotti, made his operatic debut in a leading role as Alfredo in Verdi's La Traviata in Monterrey, Mexico, nearly five decades ago.
He has performed 134 stage roles - a number unmatched by any other celebrated tenor in history.