Tate joins forces with corporate giant Ernst and Young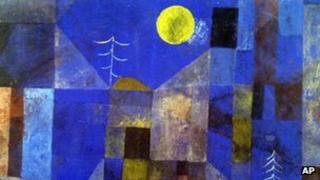 Tate and corporate giant Ernst and Young (EY) have joined forces for a three-year partnership beginning with a Paul Klee exhibition at Tate Modern.
EY is not new to arts sponsorship, but this is its largest collaboration with a single arts organisation in the UK.
Its involvement will help Tate realise three major autumn exhibitions over the next three years.
Paul Klee: Making Visible will bring together about 100 works by the leading modernist artist.
Nicholas Serota, director of the Tate, said: "EY has a long history of support for the arts and their record is a fine example of the benefits that such partnerships can bring both to companies and the arts."
Tate's four galleries across the UK attract more than seven million visitors a year.
The Paul Klee exhibition will open in London on 16 October.
The German painter, who died in 1940, produced famous works including The Twittering Machine, Southern (Tunisian) Gardens and Fish Magic.
EY's previous sponsorship includes Matisse Picasso at Tate Modern in 2002, Turner's Britain at Birmingham Museum & Art Gallery in 2004 and last year's British Design 1948-2012: Innovation in the Modern Age exhibition at the V&A in London.
The company is also sponsoring the Glasgow 2014 Commonwealth Games.
The global business firm largely deals with assurance, tax and transaction.