Mark Thompson to be quizzed on BBC pay-offs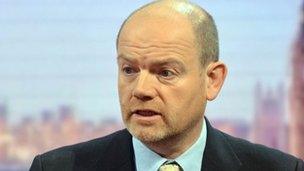 The former director general of the BBC, Mark Thompson, will appear before the Public Accounts Committee (PAC) on 9 September to answer questions about BBC executive pay-offs.
BBC Trust chairman Lord Patten and BBC director general Tony Hall were questioned last week by MPs over £25m paid to 150 outgoing executives.
Several BBC witnesses who gave evidence will be recalled, said a PAC spokesman.
They include Lord Patten and BBC HR director Lucy Adams.
Mr Thompson, who now works for the New York Times, did not attend the committee on 10 July.
Others appearing in September are BBC Trustee Anthony Fry, former trust chairman Sir Michael Lyons and a former senior independent director, Marcus Agius.
Lord Patten told the Public Accounts Committee last Wednesday that he had been "shocked and dismayed" by £25m in pay-offs to senior managers.
He added that if Mr Thompson was called before MPs, he would be "as interested as you are, why we didn't know".
But Mr Thompson later said the Trust had been told "in writing, as well as orally".
The PAC meeting followed the publication of a report in which the National Audit Office (NAO) criticised the corporation, saying the scale of the payments risked public trust.
In its report, the NAO provided analysis of several case studies, one of which was the former deputy director general Mark Byford who was paid £949,000, which included £73,000 for unused leave.
In a statement last week, Mr Thompson said he was "looking forward to laying the facts in front of the Public Accounts Committee in person, but there are a couple of inaccuracies that emerged in yesterday's testimony to the PAC which I would like to clear up immediately".