Ralph Heimans' defaced Queen portrait back on display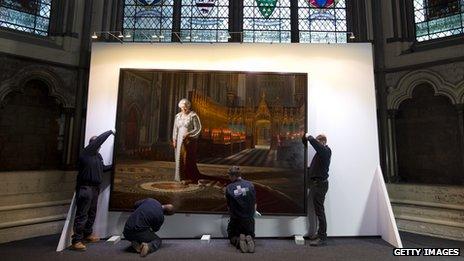 A painting of the Queen by Ralph Heimans has been restored and placed back on display at Westminster Abbey after it was defaced in May.
Tim Haries, 41, from Doncaster, South Yorkshire, appeared in court last month charged with causing more than £5,000 of criminal damage.
The electrician is alleged to have smuggled a can of spray paint into the abbey before vandalizing the picture.
Mr Heimans said he was glad to see the painting "back where it belongs".
The portrait, which is set in the Chapter House at Westminster Abbey, is back in its original location.
"I am thrilled that the painting has been restored in good time and that it can be returned to public display as intended," Heimans added.
The large-scale oil painting on canvas, which depicts the Queen in state dress, was completed last year for the Queen's Diamond Jubilee celebrations.
Mr Haries, who is a member of Fathers4Justice, entered no plea and was bailed until the end of June. He is due to appear in Southwark crown court in September.
A spokesman for Fathers4Justice confirmed Mr Haries was a member of the campaign group but said it was not an official protest.