Channel 4 rejects criticism over Ramadan broadcast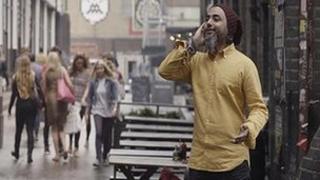 Channel 4 chief David Abraham has defended the decision to broadcast the early morning Muslim call to prayer.
Conservative MP Angie Bray called the broadcast at 03:00 BST during Ramadan a "box ticking exercise" that was "patronising to the history of Islam".
Speaking at the Commons Culture, Media and Sport Select Committee, Mr Abraham said it was a "thoughtful exercise" as part of Channel 4's remit.
Channel 4's chairman added there was "no public outcry" over the broadcast.
"We feel this should not be a hugely controversial issue, certainly not in terms of the remit we have," Lord Burns said.
But Miss Bray said the public would benefit from "more interesting programmes" rather than an "alternative approach" to the Ramadan season.
Mr Abraham told the committee the slot had attracted 186,000 viewers - almost triple its usual audience at that time.
"The predominance of coverage around the Muslim community is associated with issues that are not positive. This is positive and we should be supported in that," the chief executive said.
Speaking in July about the launch of the broadcast, Ralph Lee, the head of Channel Four's factual programming, said it would "act as a nationwide Tannoy system".
He told the Radio Times it was a form of provocation aimed at those who associate Islam with extremism.
Miss Bray, the Conservative MP for Ealing and Acton, questioned Mr Abraham on whether Channel 4 was "patronising" Muslims by airing the ritual in the early hours of the morning when most people would not see it.
Mr Abraham said the timeslot was "just a practicality" of the three-minute call to prayer.
The Commons committee inquisition, which lasted nearly two hours, focussed primarily on Channel 4's annual report, published in May.
Lord Burns defended paying Mr Abraham his £515,000 salary, which is higher than that of BBC director general Tony Hall at £450,000.
He said the pay was below that of other media organisations and "a lot less than what his predecessor received".