Ryan Reynolds falters at US box office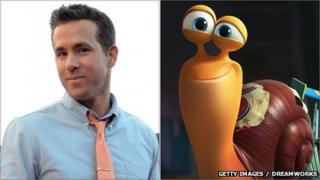 Ryan Reynolds has had a tough week at the US box office, with two new films struggling to attract audiences.
The actor starred in two new releases, crime caper RIPD and animated comedy Turbo, both of which cost more than $130m (£85m) to make.
But RIPD, a police story with a supernatural twist, took just $12.8m, entering the chart at number seven.
Turbo, about a snail with ambitions to become a racing champion, fared a little better, taking $21.5m.
It took third place, but was beaten by rival animation Despicable Me 2, which made $25m - despite having been on release for three weeks.
Number one was old-school horror The Conjuring, starring Patrick Wilson and Vera Farmiga.
Based on the story of real-life paranormal investigators Ed and Lorraine Warren, the film turned an instant profit, with ticket sales of $41.5m against a budget of $19.5m.
The film was originally scheduled for the winter, but proved so popular with test audiences that the release was brought forward.
On the other hand, RIPD, which also stars Jeff Bridges, was mauled by critics - garnering a lowly score of 11% on review aggregator Rotten Tomatoes.
The New York Times called it "crushingly dull", while Time magazine declared it "too awful to review" - instead printing its critic's rough notes.
"There are always going to be films that are green-lit two years ago that aren't going to make it," said Nikki Rocco, from film distributor Universal.
"There are always going to be times when films just don't work. It's nothing new."
Fox, which distributed Turbo, was more optimistic, pointing to the fact that children's films tend to have a longer run in cinemas over the summer holidays.
"We have a ton of summer play time left," said Chris Aronson. "The film got lofty scores from test audiences under age 25, which bodes very well... since that's our target audience."
Reynolds, who had the main role in both films, is generally a reliable box office star - with roles in films like The Croods, Safe House and Definitely, Maybe.
His highest-profile role to date was in superhero film Green Lantern, which was profitable but failed to spawn a sequel.
He is not the only actor to suffer at the box office this summer, with Will Smith's After Earth and Johnny Depp's The Lone Ranger both underperforming.
"There are just too many films in theatres and they cost too much, it's pretty simple," said film finance analyst Anthony Wible. "And there are more of them this summer than ever."
However, overall US box office receipts are up by 12% compared to last year's summer blockbuster season, which was dominated by The Dark Knight Rises.