Michael Sheen sex drama heads to Channel 4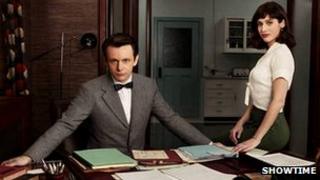 US TV drama Masters Of Sex, which stars Michael Sheen as a sex expert, has been snapped up by Channel 4 before the first episode has aired in the US.
The series is based on the lives of Dr William Masters and Virginia Johnson, whose pioneering research helped fuel the sexual revolution of the 1960s.
Lizzy Caplan, who plays Johnson, says the show features "explicit sex", while Sheen describes it as "very intense".
Channel 4 will air the show "soon after its launch" in the US this September.
Sheen has played several real-life roles during his career, including Tony Blair and David Frost
"I simply want to answer the question, 'what happens to the body during sex,'" asks Sheen's character in a trailer for the series, released last week.
His research faces opposition from university chancellor Barton Scully, played by Beau Bridges, who yells: "It's not medicine".
The 12-part drama has already won a Critics' Choice award for most promising new series, months before its TV premiere on 29 September.
It marks the first major TV role for Welsh actor Sheen, who is better known for films such as Frost/Nixon, The Queen, and the Twilight series.
Speaking to movie website Collider last year, he said the story had the potential to play out "over multiple seasons".
"I thought there was a lot of opportunity there to really explore something we find taboo, in some ways, and a bit embarrassing. I thought that was interesting."
Caplan, previously best known as Amy in vampire series True Blood, added that Johnson was "the most challenging part I'll ever play".
"A huge part of her personality and who she was, was a woman who was completely comfortable with her own sexuality, at a time where that was almost unheard of," she explained.
"It's why she was so helpful to [Dr William] Masters. She understood sexuality more than he did. He understood science, and she understood the human element of it. "
The series is being made for subscription TV channel Showtime, already home to edgy dramas such as Homeland and Dexter.
Sky Arts recommission
In other commissioning news, Jon Hamm and Daniel Radcliffe have signed on for a second series of Sky Arts's A Young Doctor's Notebook and Other Stories.
Based on the short stories by the celebrated Russian writer Mikhail Bulgakov, the pair will reprise their roles with Hamm playing a Russian doctor during the Russian Revolution and Radcliffe his younger self.
"I'm thrilled to come back to our wonderful, weird, wild world of A Young Doctor's Notebook. Series one was an absolute blast to work on and I'm looking forward to continuing this bizarre adventure," Hamm said.
Radcliffe added: "I had absolutely no hesitation in agreeing to do a second series of A Young Doctor's Notebook.
"I had an incredible time working with the multi-talented Jon Hamm and of course am a huge fan of Mikhail Bulgakov's work and so was thrilled when I was told a second series had been commissioned."
The new four-part series will be broadcast later this year.