David Jacobs steps down from Radio 2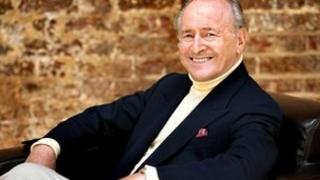 Veteran broadcaster David Jacobs is to leave his Radio 2 show, The David Jacobs Collection, citing ill health.
His regular Sunday night programme features tunes from Hollywood, Broadway and Tin Pan Alley, and has been on the air since 1998.
But Jacobs has been at the BBC since 1945, hosting shows such as Housewives' Choice, Pick of the Pops, Juke Box Jury and Any Questions.
The 87-year-old's last show will be broadcast on Sunday, 4 August.
He said: "Over the past two years Radio 2 has given me time to be treated for liver cancer and Parkinson's Disease.
"My producer, Alan Boyd, has been a tower of strength in so many ways and I thank him profusely.
"We shared a love of so many records and wonderful music.
"I will not stop collecting but my sadness will be that I cannot share them with all my loyal listeners. But rest assured, I will be back from time to time."
Golden career
Jacobs started his broadcasting career in the Royal Navy in 1944, where he was made an announcer on wartime radio station Radio SEAC.
The invitation came from Commander Kim Peacock, who had heard him appear as a guest on a variety show.
"He said he didn't think much of my impersonations," Jacobs once recalled, "but he thought the way I announced them was very good, would I like to be an announcer?"
"This was unbelievable. I was just a sailor, an ordinary seaman."
After leaving the Navy, Jacobs worked full-time at the BBC as an announcer and newsreader.
He later became one of the original presenters of Top Of The Pops, and preceded Terry Wogan as the BBC's commentator on the Eurovision Song Contest.
One of his most famous radio programmes was sci-fi serial Journey Into Space, for which he eerily introduced all 53 episodes, as well as playing 22 characters.
He also played Laurie in the first TV adaptation of Little Women, and appeared as himself in an episode of Some Mothers Do 'Ave 'Em.
The broadcaster won a Sony Gold Award for outstanding contribution to radio in 1984 and was subsequently admitted to the Sony Hall of Fame in 2005.
Although he was born and bred in South London, Jacobs is known for his refined, avuncular broadcasting voice.
"My mother and father were very keen on people speaking properly and politeness," he explained in 2012.
"In search of that, we had what was then called a governess, who was really specifically there to give us the right words to say at the right time and bring us up properly."
In a career retrospective, broadcast on Radio 2 last year, Chris Evans described Jacobs as "the gentleman's broadcaster".
"David Jacobs [is] one of the cornerstones of British broadcasting," he said. "A man who always has time for you, who always has something worth listening to."
The veteran DJ will not leave Radio 2 entirely, and will return for special one-off shows later in the year.